Tigers are all geared up for a return to business on and off the pitch and that old full backs adage of 'safety first' is absolutely paramount in our return.
We already have events to share with you and we are preparing for a return of supporters, partners and business friends when safe and appropriate to do so.
When we return we are looking forward to giving you all the famous Mattioli Woods Welford Road hospitality but it will need to come with a few tweaks as we go over and above to ensure we are the safest venue we can be. Here's how we are keeping you safe...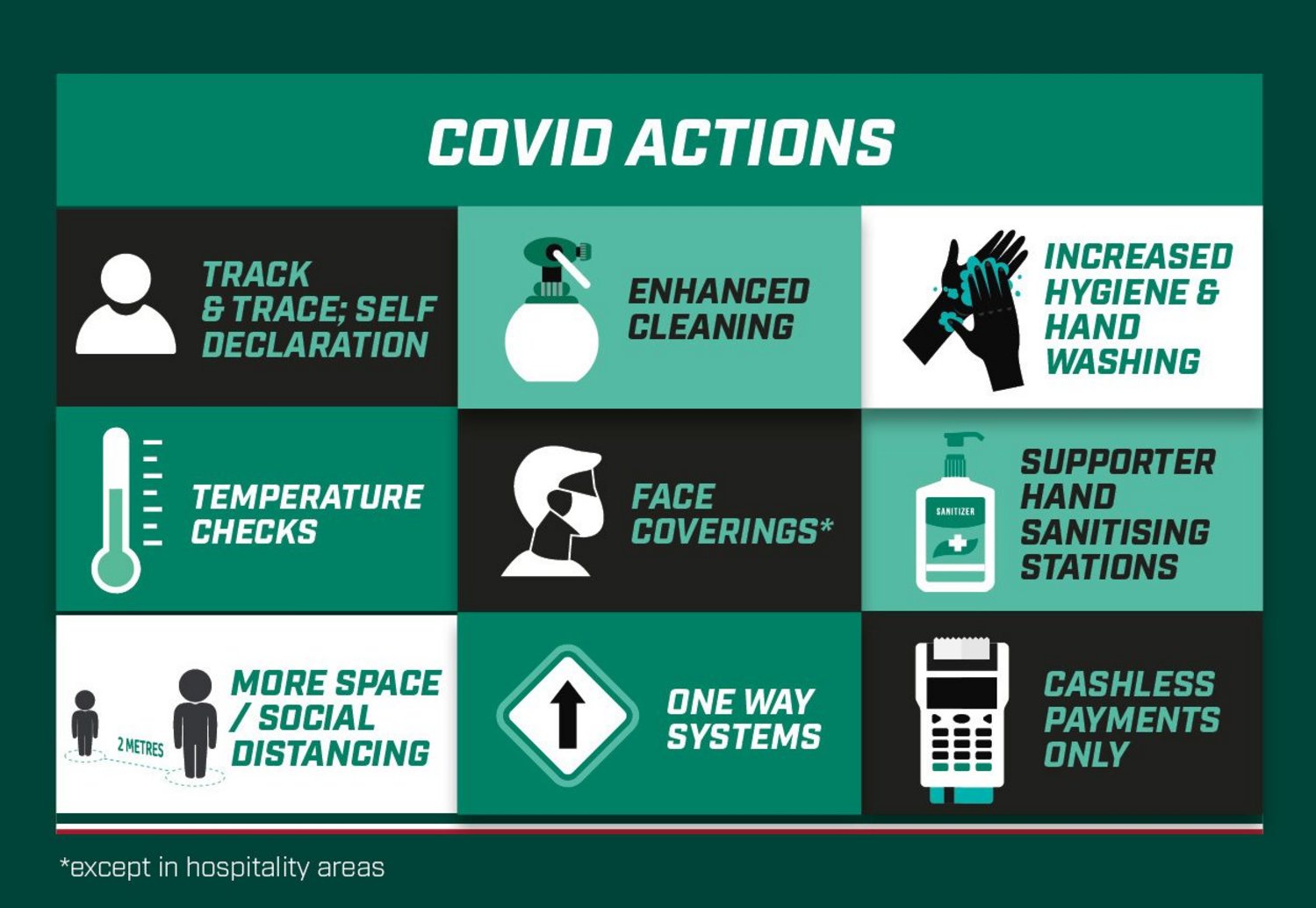 Frequently Asked Questions
Full contact details – collected for track & trace
Covid free self declarations
Enhanced cleaning
Increased hygiene & handwashing
Temperature checks
Face coverings (except hospitality areas)
Supporter hand sanitising stations
More space / social distancing
One way systems
Cashless payments only
You will be required to wear face coverings for the shop and main stadium and will not be allowed in without one. In line with government guidelines you will not have to wear one for areas where we are providing hospitality.
Ensuring the wellbeing of our teams, along with our customers, is our top priority. We have put the following measures in place:
Daily health declarations and temperature checks are completed by our team before work starts.
We're washing our hands regularly.
We've enhanced our cleaning procedures.
We're using face coverings and barriers where appropriate
We've adjusted our menu to enable social distancing in the kitchen for staff working in food preparation
We are asking one guest per party to provide their name and number to support the government's track & trace system. Your details will be held securely and deleted after 28 days.
Tigers are determined to go over and above for the safety of our supporters and staff and we are asking our guests to be responsible and confirm that they and their group are symptom free, shouldn't be isolating and are allowed to attend together under government guidelines, and not to attend if they're not able to confirm this for the safety of others.
A temperature of 37.8oC is one of the most common symptoms of Coronavirus and one of the first signs to appear. In our drive to go over and above to keep everyone safe, we will be checking all guests for temperatures of 37.8oC or greater before entry and if this is confirmed we will ask you not to attend the event.
Tigers are determined to go over and above for the safety of our supporters and staff and so we are checking that our guests do not have an elevated temperature.
Our changing rooms will remain closed for the time being but you will be able to try shirts on dependent on stock levels.