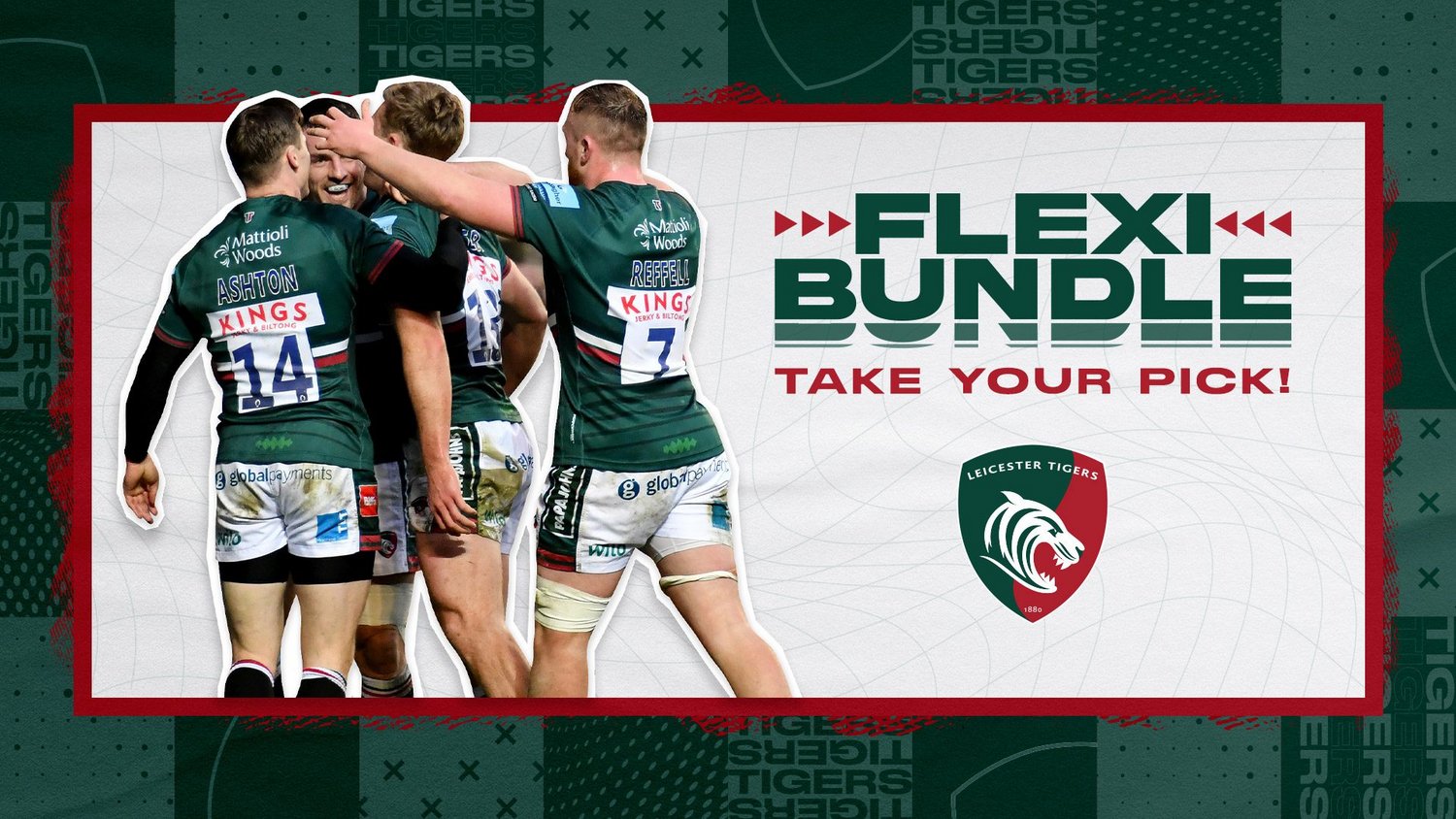 Leicester Tigers Flexi Bundle
Leicester Tigers are excited to launch a new bundle ticket offering for the 2022/23 season run-in – the Flexi Bundle.
With massive savings on seats at massive fixtures - be at our Gallagher Premiership home fixtures against Bristol Bears, Exeter Chiefs and Harlequins from just £60!
You can also select a different seat for each game, providing the opportunity to experience the atmosphere in each of the stands Tigers has to offer.
With a huge run of fixtures still to be played at Mattioli Woods Welford Road, save up to £45 on match-by-match booking when you book your Flexi Bundle today to be at:
Bristol Bears –Saturday, March 25 (12.30pm)
Exeter Chiefs – Sunday, April 16 (3pm)
Harlequins - Saturday, May 6 (4pm)
Flexi Bundle prices start from just £60 (Adults) and £25 (Under-18s).
---
How the Flexi Bundle works:
Under the Flexi Bundle, supporters select which category they would like to book.
Supporters select how many Flexi Bundles they would like to purchase (please note that when booking more than one ticket, these will need to be seats together).
Once the category is selected, supporters then add the three fixtures to the basket.
Supporters then select their desired seat/place for each fixture. There is the choice to remain in the same place for all three fixtures (must select the same seat for each fixture) or sit in a different area of the stadium for each game (MUST all be in the same selected category).
Once seats have been selected each Flexi Bundle must be assigned to a supporter (one Flexi Bundle per supporter).
Supporters can then complete the transaction and secure their place at three huge games ahead of general sale and save up to £45 in the process!
---
Please note that Season Ticket Holders, Half-Season Ticket Holders and Super Members will receive a free additional ticket to Leicester Tigers v Bristol Bears as part of their membership benefits.
---
Terms and Conditions
Each account/Tigers Reference Number (TRN) is limited to one Flexi Bundle.
Multiple Flexi Bundles can be purchased in the same transaction so long as they are each assigned to a different account/TRN.
If you are booking a Flexi Bundle on someone else's behalf, ensure you have their account details to hand in order to assign the Flexi Bundle to their account.
If you want to buy a Flexi Bundle for a junior, please create an account on their behalf (using your contact details) and either purchase a Flexi Bundle via their account, or purchase from your account and then assign it to them.
Once a Flexi Bundle has been purchased in a particular category, the tickets cannot be upgraded or moved to another category.
Flexi Bundles are non-refundable – even once games are confirmed by Premiership Rugby.
Flexi Ticket holders will not receive any of the benefits of a Season Ticket holder or Member.
Frequently Asked Questions
By allowing you to choose fixtures around your availability, the Bundle provides excellent value and flexibility for supporters. Choose your place at three of our last four Gallagher Premiership fixtures at Mattioli Woods Welford Road and save up to £45.

When booking, select your seat category and the three fixtures you would like to attend. You can then select the same seat/place for all three fixtures, or a different seat for each fixture (must be in same selected category), so you can enjoy rugby from all the angles Mattioli Woods Welford Road has to offer!

If you have already purchased a match ticket for Bath, you can upgrade to the Flexi Bundle and enjoy an additional two games at Mattioli Woods Welford Road. To do so, please contact the ticket office team on 0116 319 8888 (option 2) or email [email protected] and let us know which other fixtures you would like to attend. We will deduct the cost of your Bath ticket from that of your Flexi Ticket Bundle.

Some fixtures included in the Flexi Bundle are yet to have kick-off details confirmed. Once you have booked the Flexi Bundle, we will not be able to offer any refunds.

With some fixtures included in the Flexi Bundle not having kick-off details confirmed yet, you may receive Print at Home tickets for fixtures that do not feature a date or kick-off time. These tickets will remain valid, and you will not need to be reissued a ticket. For all confirmed fixture details, please click here.

Watch our Flexi Bundle purchasing guide to find out how to book your place.

For more information contact the Ticket Office on 0116 319 8888 (option 2) or email [email protected].