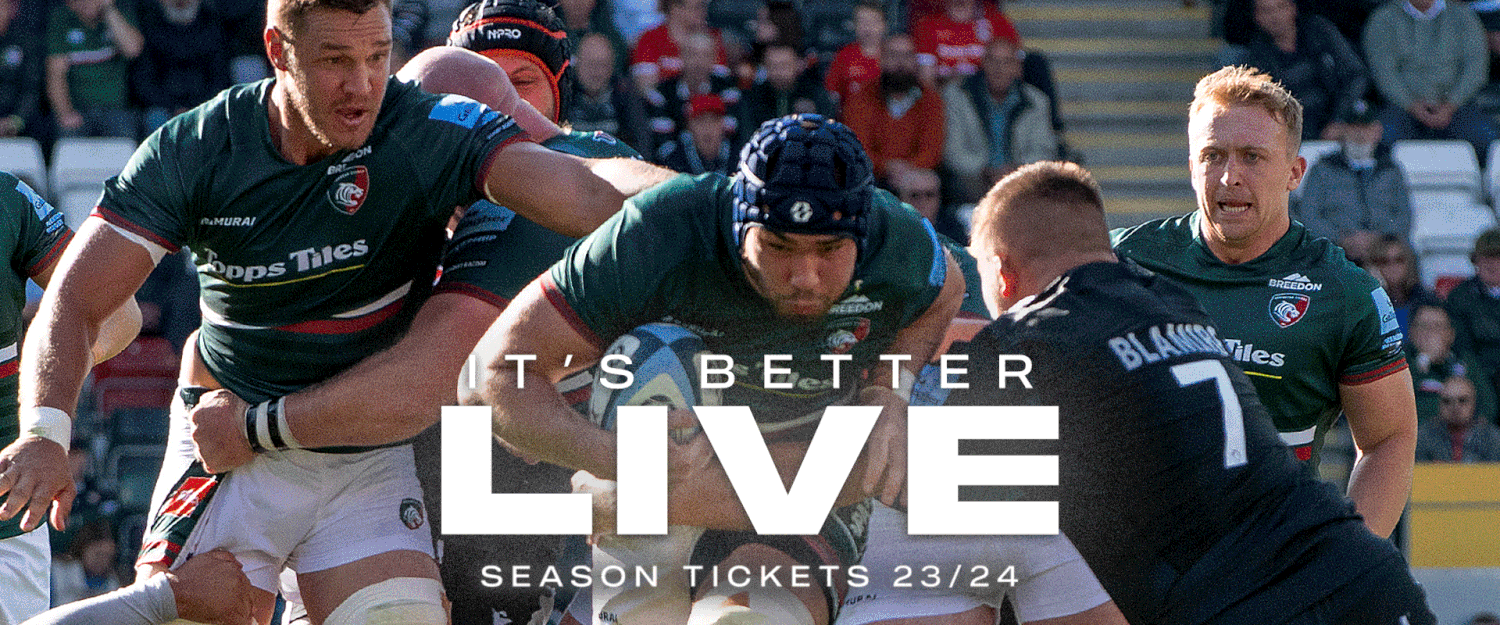 MEN'S SEASON TICKETS 23/24 - IT'S BETTER LIVE!
Leicester Tigers Season Tickets are now available to renew or buy for the 23/24 season.
Including entry to every home Gallagher Premiership regular season fixture, all European Cup and Premiership Rugby Cup home pool fixtures and a pre-season fixture at Mattioli Woods Welford Road, a Men's Season Ticket is the best value and most convenient way to secure your place in the action, with prices from just £295 (Adults), £90 (Under-18s), and £12 (Under-12s)!
Full pricing information can be found by clicking here.
Men's Season Ticket Holders can also purchase a Women's Season Ticket for a special discounted rate of just £36 (Adults) and £12 (Under-18s) to enjoy even more rugby at Mattioli Woods Welford Road in 23/24 (priced at £50 / £20 for all other supporters).
In an incredibly exciting time for the Club, Leicester Tigers Women's side will be competing in the Premier 15s, the top-tier of domestic rugby, for the first time in 23/24!
During their inaugural campaign, the support for Vicky Macqueen's side has been excellent, with the Tigers Family turning up in their thousands to witness relentless, attack-minded performances.
As the side take on the new challenge of the Premier 15s, the launch of the 23/24 Women's Season Ticket will help Leicester Tigers compete in the top-tier of domestic rugby, with all money from Women's Season Tickets to be reinvested into the women's game.
The Women's Season Ticket can be purchased when renewing or purchasing your Men's Season Ticket online or by contacting the Tigers Ticket Office. For more information about the Women's Season Ticket, click here.
Season Ticket Benefits
There are a host of exclusive benefits included with the 23/24 Season Ticket:
10% off Tigers kit and merchandise in the Club Shop
Priority on additional match tickets
Priority on international tickets (via ballot)
Free entry to both fixtures in Double Header
Additional FREE ticket to two allocated home games
Collect 1 ROARwards point per £1 value of your Season Ticket (you must have created a ROARwards that is linked to the same email address as your Season Ticket account before renewing or purchasing to receive ROARwards points)
Exclusive digital newsletters each month from Chairman Peter Tom, CEO Andrea Pinchen, incoming Men's Head Coach Dan McKellar and Women's Head Coach
Free Under-18s upgrades for weekday evening fixtures
Share your ticket for free when you can't make a game
Buyback opportunities when you can't make a game
50% discount on PRTV Live for 23/24 season
Key Dates:
The Advanced Pricing window for supporters to renew or purchase their Season Ticket and save on Standard Pricing will be open until 11.59pm on Saturday, May 6.
If you want to keep your seat for the 23/24 season, it will be reserved until 11.59pm on Sunday, June 4.
Season Ticket holders can take the opportunity to move their seat to any available around the ground in Movers and Shakers week between June 5 – 11.
*frozen or reduced in comparison to final Season Ticket prices in 22/23 season.