So far this summer, we've shone a light on some of Leicester Tigers' key community projects with our #TigersFamily Matters series.
Now, we turn our attention to the opportunities offered to young players with special educational needs and disabilities (SEND).
Gary Ayres is responsible for delivering rugby to SEND groups across Leicester, Leicestershire and beyond.
Originally from Stevenage, Gary was coaching rugby in Brazil this time last year – but a call to join Tigers' community was something he just couldn't turn down.
"I'd done four years of rugby coaching in Brazil, and being able to move back home and work for a club like Tigers was too good an opportunity to pass up," he says.
His role is twofold; heading out to local schools and clubs to deliver accessible sessions to players of all ages and abilities; and raising awareness of disability sports like wheelchair rugby. He is also a key liaison with the club's hugely successful wheelchair rugby squad.
"This year, we've been into 12 different special schools across the county, all with various different needs and abilities," he explains. "We work with primary school ages right through to secondary school, and the instant challenge is the huge variety of abilities we can have in each group.
"You can't really plan a session as you would with more mainstream coaching, so it's all about adapting to make it inclusive and enjoyable for everyone, and delivering one-on-one support as required."
"It always feels nice to be able to make a difference."

Gary Ayres
Following the success of such sessions, Gary is spearheading a project of weekly mixed ability rugby coaching at Tigers' Oval Park training base.
Special schools from across Leicestershire have been invited to take part, with the first session set for later this month.
Gary continues: "All the schools we work with are absolutely great. They are keen to encourage any off-site, extra-curricular activity, and their timetables are flexible enough to allow us to provide these sessions on a Wednesday afternoon.
"Mixed ability rugby is where we can adapt the rules for that one game, to include as many people as possible.
"That could be fully touch rugby, or walking rugby so there's one pace for everybody, or we could perhaps say that everybody has to touch the ball before the team can score.
"There's real flexibility on what we can do with the rules to make it more inclusive, and it's just about getting people on the pitch, playing, and making people happy."
Satisfyingly, a number of players who have engaged with the scheme so far have gone on to play for local clubs. Sessions delivered for players at secondary schools are backed by Premiership Rugby's national Project Rugby programme, while anything younger than that is entirely funded by the Leicester Tigers Foundation.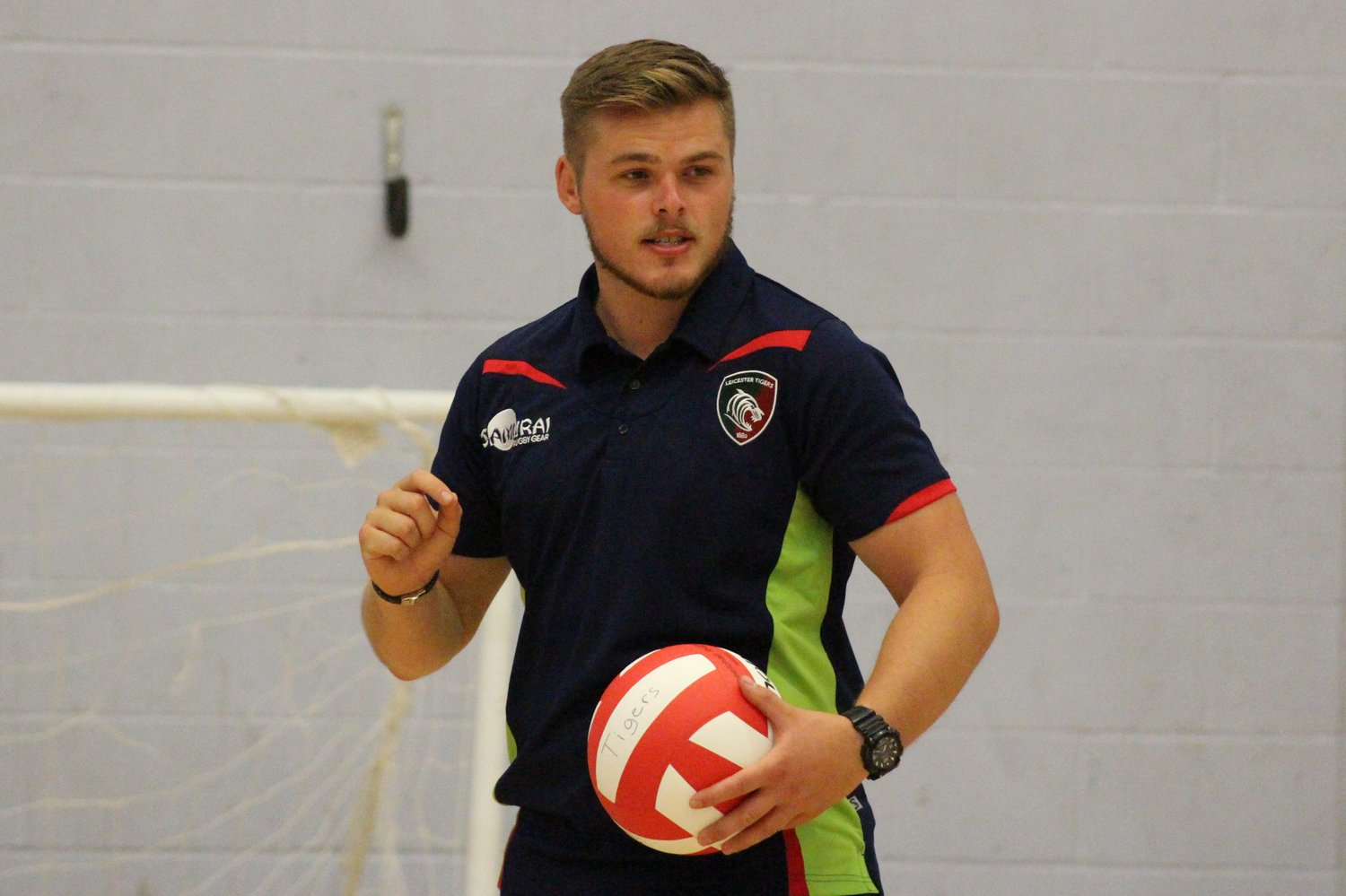 Elsewhere, Gary is also responsible for the outreach side of the club's wheelchair rugby programme.
"We've also done some wheelchair taster sessions, which have been pretty successful," he continues. "In total, we've reached more than 350 kids who otherwise would not have known about that environment.
"They all love the sessions, and every single school we've been into has asked us to come back and deliver more, and it always feels nice to be able to make a difference.
"The main issue in wheelchair rugby is the equipment. Each chair costs £2,000, so we've only been able to purchase 10 of them so far, but they are bringing real benefits."
Over the coming months, Gary has plans to better integrate these taster sessions with the club's wheelchair rugby squad – creating a talent pathway similar to the link between the Tigers Academy and senior squad.
Keep an eye on the Leicester Tigers website and the club's social media channels to follow Gary's work in the community throughout the season, or contact him on [email protected] to arrange a visit for your school.