More than 150 young rugby players will be joining Leicester Tigers community teams as they host Takeover Day at Nottingham Moderns Rugby Club on Wednesday, February 25.
The club is the former club of current Leicester and England U20s tighthead prop Joe Heyes who will be visiting his old club, alongside Tigers team mates Telusa Veainu and Sam Lewis.
The club's Wilford ground (NG11 7AA) will welcome sessions for players from Under-7s level, right up to Under-16s before a Q&A session with the players.
Part of the club's Project Rugby programme, which aims to help create opportunities for young players and remove the barriers to participation, there's plenty for parents and families to get involved with activities like the Tigers Tackle Bag, Fordy's Kicking Challenge, Welford's Wheel and The Vault.
If you're looking on the best way to travel and park, Nottingham Moderns is situated next to the Wilford Village Tram Stop which is accessible from the city centre.
Parking is also available at one of four locations close by.
Victoria Embankment (NG2 2JY)
Emmanuel School Gresham Park Road (NG2 7Y)
South Wilford School Main Road (NG11 7AL)
St Patrick's School Coronation Avenue (NG11 7A)
There is also a pedestrian bridge across the River Trent situation to the north of the ground.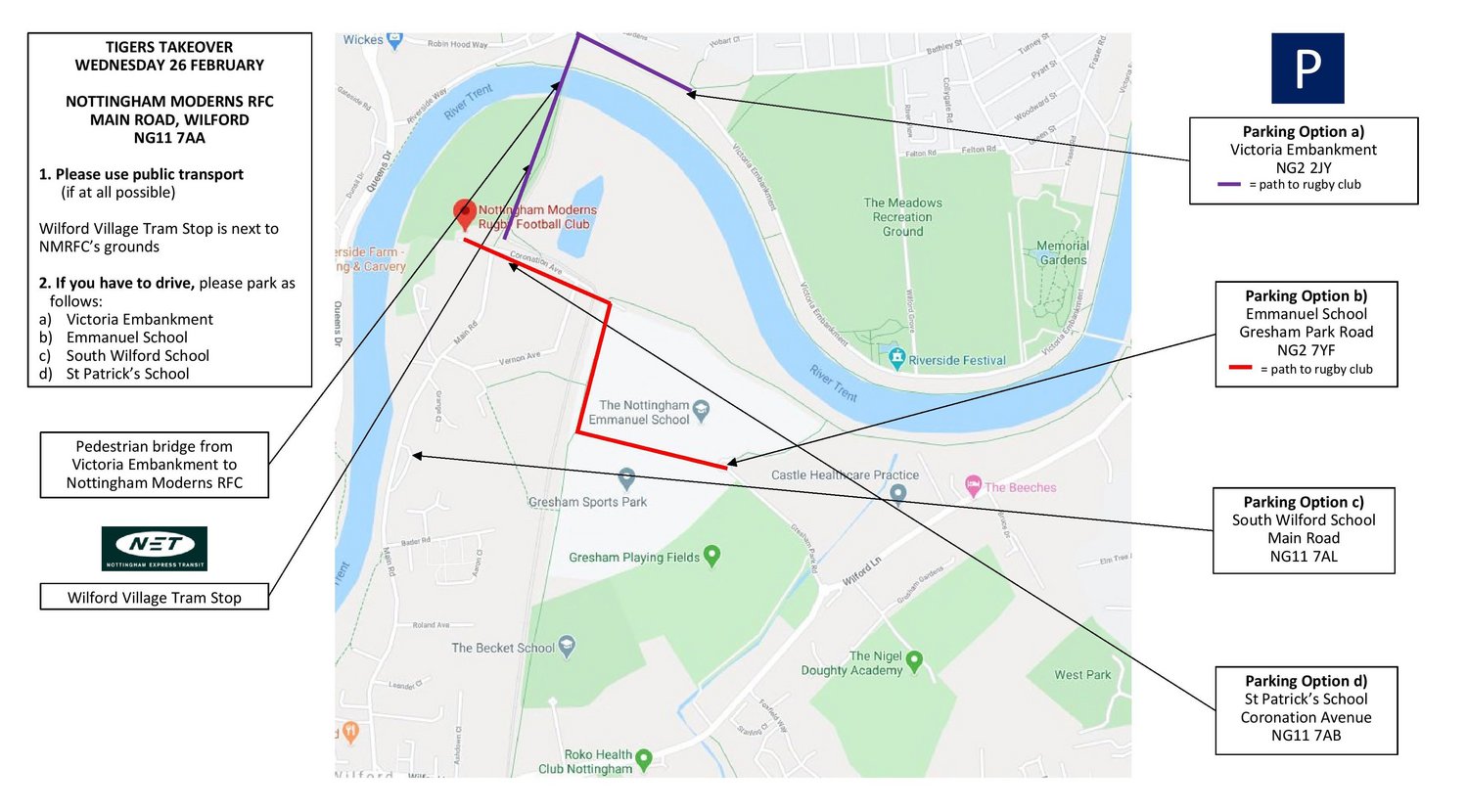 Specific tag rugby sessions for Under-7s and Under-8s, as well as limited contact sessions for young players between Under-9s and Under-11s will take place at the Moderns' Ferryfields ground between 5.30pm and 6.30pm.
Further taster sessions for players aged between Under-12s and Under-16s are scheduled for 7.00pm and 8.00pm, with Heyes' player Q&A taking place afterwards.
Find out more by contacting [email protected] or register your interest at the link below.
Register your interest - Tigers Takeover (Wednesday, February 26)