Loved everything about the camp. There were no negatives at all... apart from it having to end the Friday

Parent of Daniel
Read more about a particular camp:
Structured Timetable
Our professional coaches have put together a full week of timetabled activities designed to improve your game and make you a better player.
Themed Days
Each day will have a theme to work on including "Go Forward", "Tempo", "Attack Space", "Get the Ball Back", and "Connection to the Ball".
Train Like a Pro
Led by our team of coaches, this course will see you Train Like a Pro, making sure you're in the best space to learn and are prepared well for every activity.
Serious About Fun
We're also serious about fun, so we know that you'll come away having had a great week with new friends and with improved skills.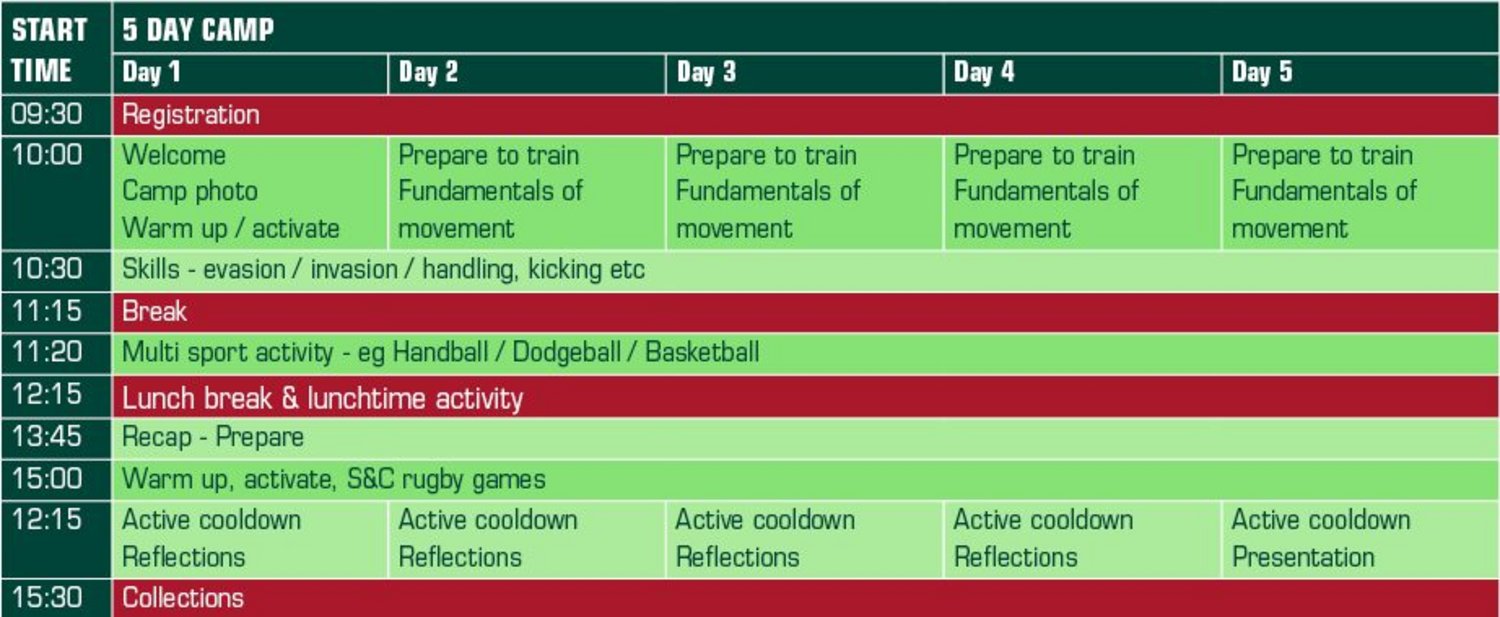 Preview - Fit to Train
Ensuring that the players are OK to train and discussion around what we will be covering each day.
Prepare to Train (PTT)
More than a generic warm up this is designed to activate the specific muscle groups needed for the planned activity we are undertaking.
Strength and Conditioning (S&C - Body weight exercises)
Looking at functional movement skills. Teaching the players the correct form and range of movement whilst working with only their body weight and that of others.
Rugby Skills (Technical/Tactical/Handling)
Looking at technical skills such as linout throwing, kicking, highball work.
Education (Recovery, Hydration, Nutrition, Analysis)
An interactive education session looking at a different topic each day aligned to the professional game.
Lunchtime Activity
A different lunchtime activity each day designed to build teamwork and communication skills.
Rugby Games (games based)
Technical skills and problem solving - non-contact.
Cool Down / Review of the day
Functional Movement and Stretching combined with a review of all things covered during the day.
Player Feedback session
Players will receive written feedback from their coaches on areas of their game to take away with them.
Presentations
This is the final afternoon of the week, where feedback and presentations are given to camp attendees, parents are welcome to attend.
Your day at TAG Rugby Camp
TAG Rugby is open to all players in the age category, boys and girls play TAG together.
We coach your Tiger cub with the basic skills at this young age - it's lots of fun and action packed - great chance to meet new friends, be active and be introduced to the sport of rugby.
TAG Rugby is a fantastic introduction to the game of rugby and really helps increase fitness due to its fast pace. It's a fun, fast-moving, non-contact game, ideal for all children.
The Leicester Tigers TAG camp not only focuses on playing the game, it also includes fitness, agility and the general etiquette of the game of rugby.
TAG players receive:
Camp T-shirt
Tigers Water Bottle
Rugby Ball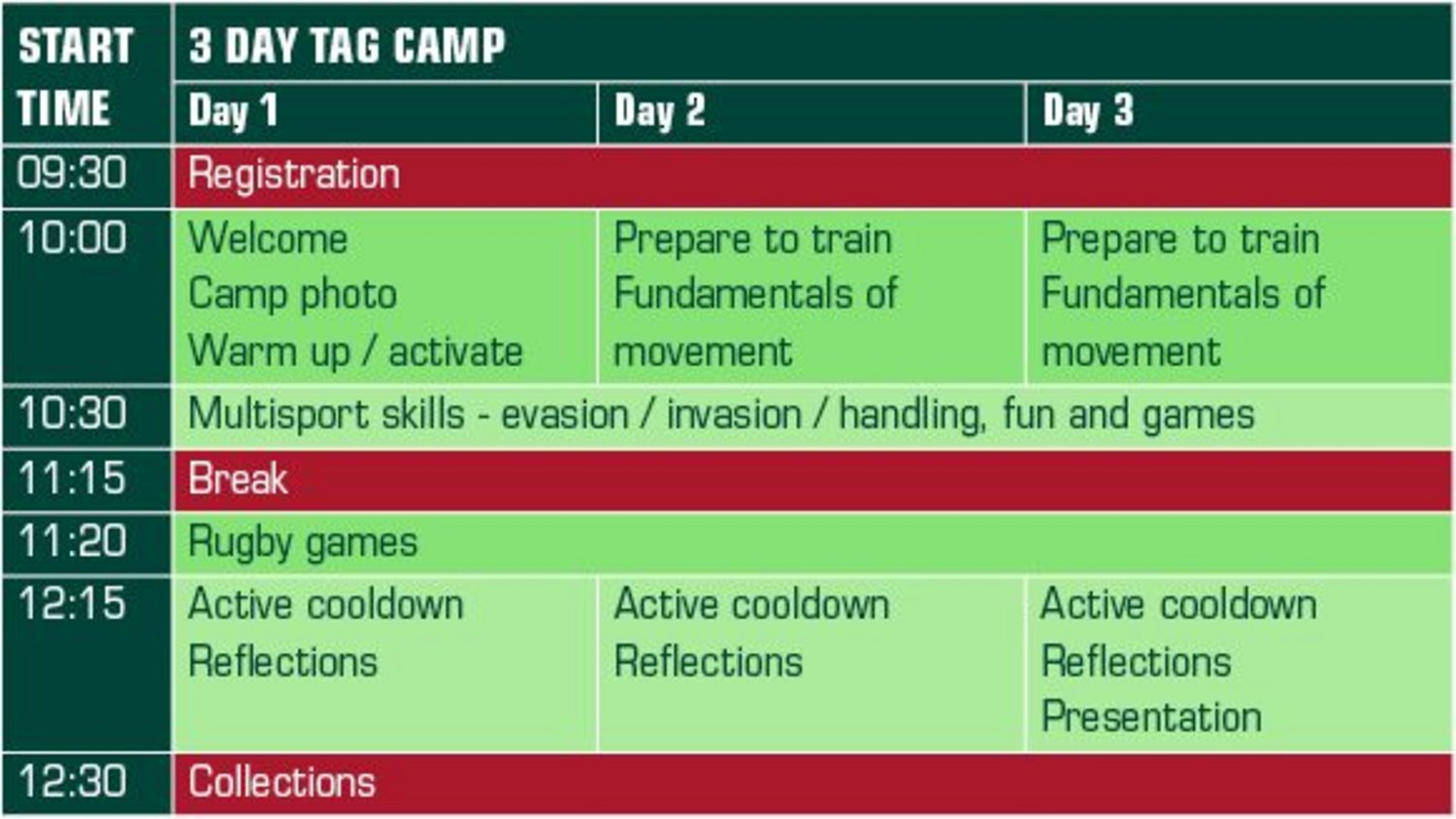 Our residential camp is the perfect opportunity to improve your young player's game whilst immersing themselves in a focused and dedicated rugby environment.
They will get the chance to take on our elite rugby training programme, build their knowledge on specific areas of the game as well as working with their peers in an intensive professional environment with our academy and community coaches.
Bishop Burton is a boarding sports agricultural college near Hull (HU17 8QG).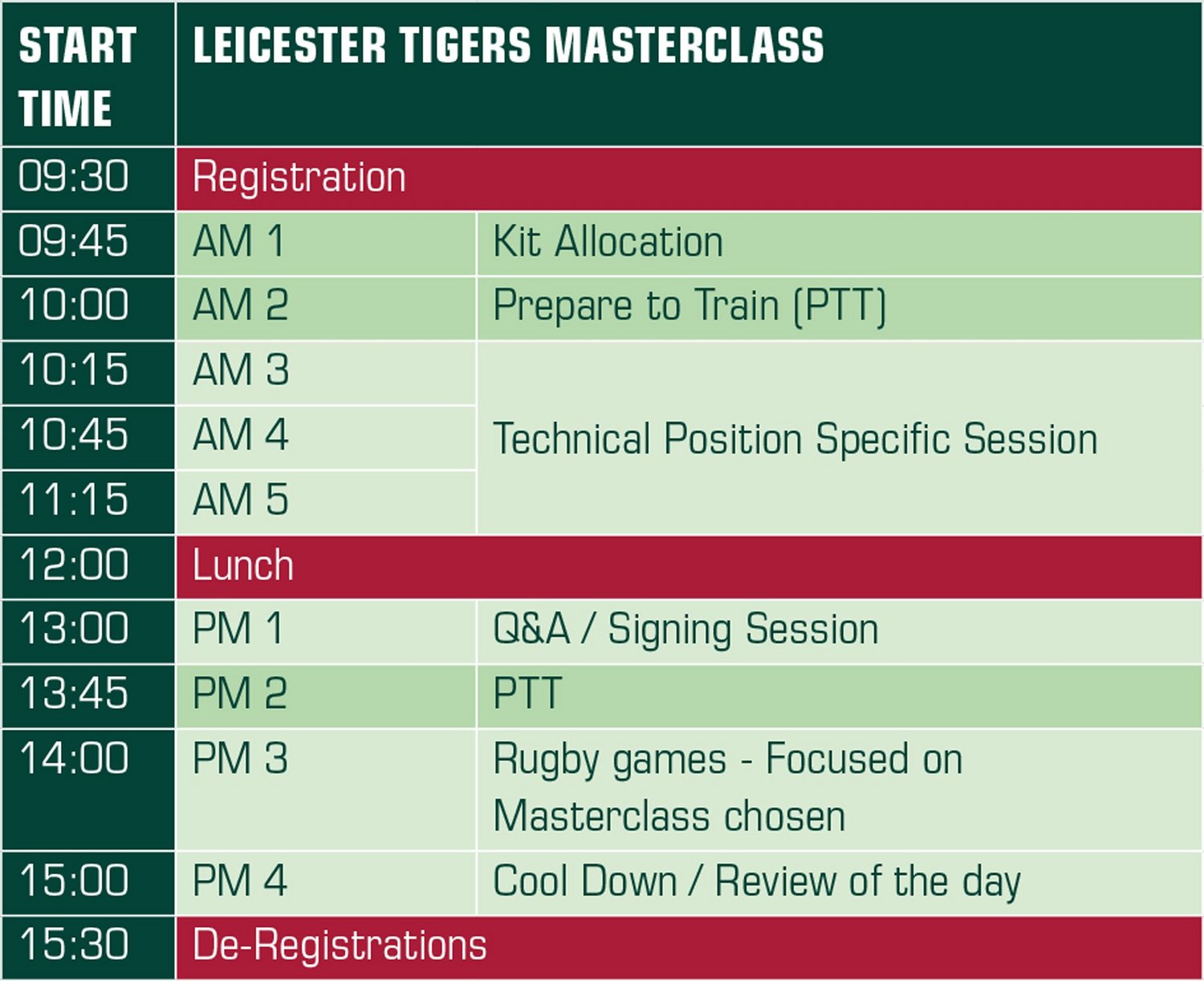 Our Masterclasses at Welford Road are one-day camps that offer position specific rugby training.
Hosted at Welford Road, players will get the opportunity to learn under the watchful eyes of our top coaches and to train at one of the most iconic homes of rugby.