Many Leicester Tigers supporters have already joined Premiership Rugby's request to the Government for assistance during the Covid crisis and there is still time to join the appeal.
The Gallagher Premiership clubs are facing up to a year without matchday or stadium income following the announcement of the cancellation of the pilot fixture programme and a warning that crowds may not be admitted until April next year.
Premiership Rugby clubs have asked the Department for Digital, Culture, Media & Sport for help while stadium doors remain closed and have urged their fans to help by writing to their parliamentary representatives to reinforce the value of their club and its work in the community which is at risk due to the financial impact of the pandemic.
Clubs are working together to seek the support which would allow the professional game to move forward through these challenging times.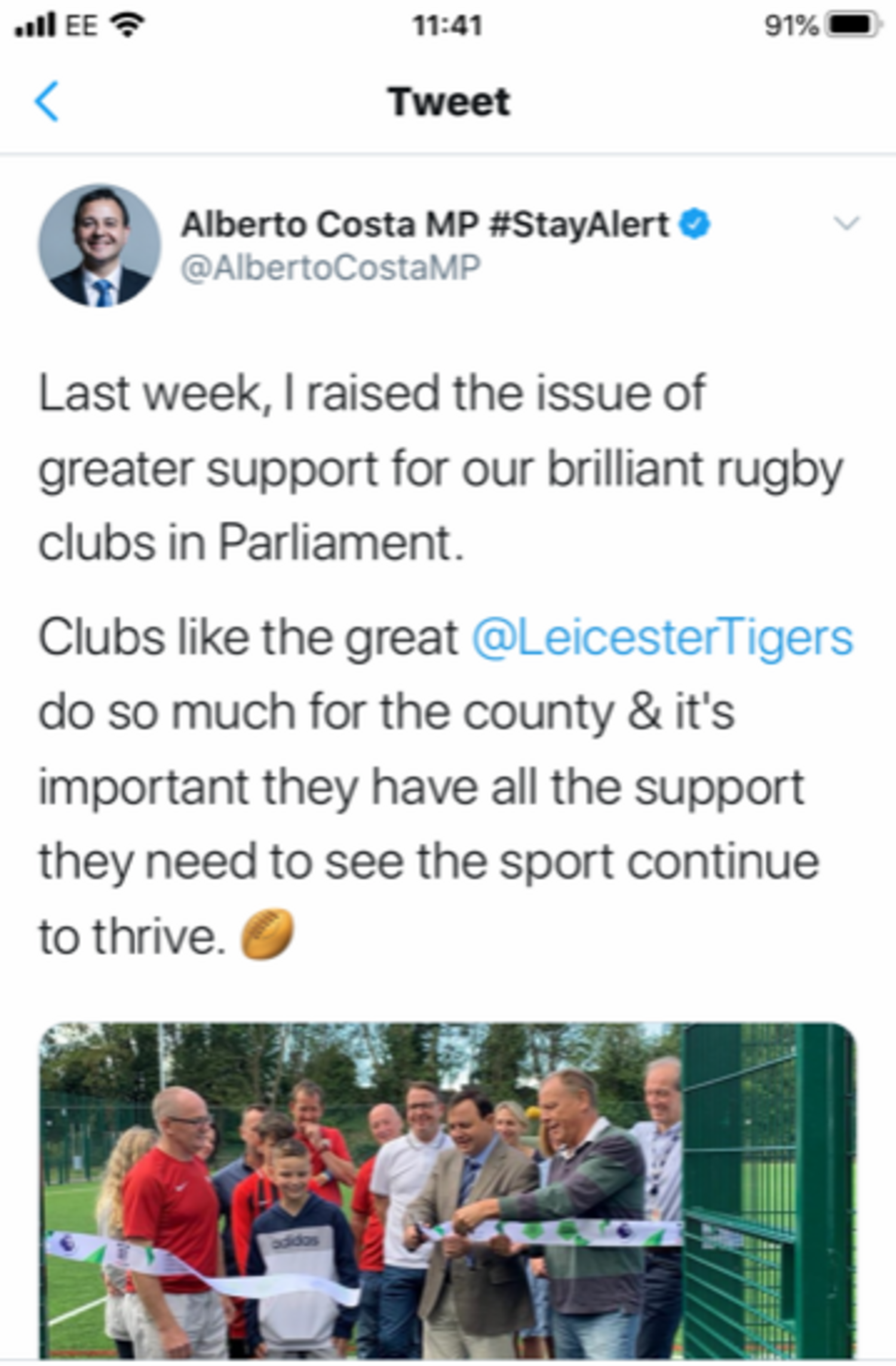 The #TigersFamily has already played a major role in highlighting what the club means to them – on the pitch and off – and many have received acknowledgement from their local MPs.
Thank you to everyone who has already written to their MP via letter or email.
There is still time to show your support too, even while you are unable to attend matches at Welford Road.
Share your thoughts on 140 years of history, what the name of Leicester Tigers means to you, ansd the importance of the club's work beyond the four walls of Welford Road within the wider community.
You can say it in your own words, of course, or take some suggestions from our draft below:
Dear Sir/Madam
As a Leicester Tigers supporter, I urge the Government to provide some assistance for the Gallagher Premiership clubs whose stadiums have been closed to supporters for the last six months and now face another six months without matchday revenues.
Rugby prides itself on its inclusivity and community focus – built on those who give their time to the grassroots game, who introduce youngsters to its skills and principles of respect and fair play, and also on the fans who follow their teams so passionately.
A professional rugby club is about much more than 80 minutes on a Saturday afternoon, but that is the focalpoint from which everything else grows.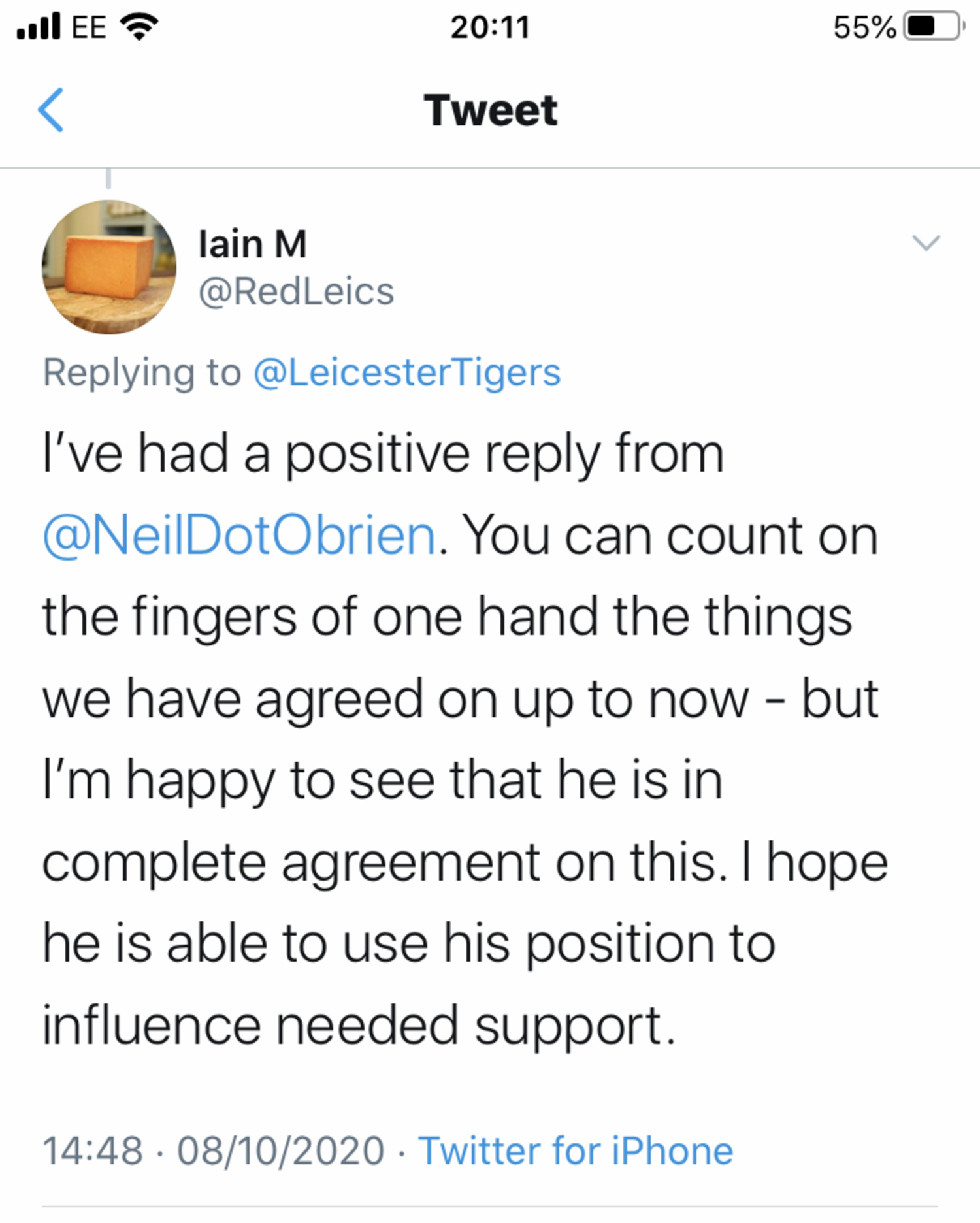 Leicester Tigers plays a central part in the sport, entertainment and economy not only in our city and county but also in the broader region of the East Midlands and Eastern Counties. The club has a name known throughout sport but also works in promoting health and wellbeing, education and physical activity alongside encouraging participation in disabled, special needs and youth inclusion programmes, and with those who would not normally have the opportunities.
To continue that work and to provide confidence that a club with a rich history over the last 140 years can survive and thrive in future, it needs the Government to show its own support.
The clubs need us – and you – now more than ever.
Yours sincerely,
Contact details for Leicestershire & Rutland MPs:
Alberto Costa – South Leicestershire | [email protected]
Andrew Bridgen - North West Leicestershire | [email protected]
Claudia Webbe – Leicester East | [email protected]
Jonathan Ashworth – Leicester South | [email protected]
Liz Kendall – Leicester West | [email protected]
Alicia Kearns – Rutland and Melton | [email protected]
Edward Argar – Charnwood | [email protected]
Jane Hunt – Loughborough | [email protected]
Dr Luke Evans – Bosworth | [email protected]
Neil O'Brien – Harborough | [email protected]
Contact details for the Department of Digital, Culture, Media and Sport:
Oliver Dowden - Secretary of State for Digital, Culture, Media and Sport | [email protected]
Nigel Huddleston - Parliamentary Under-Secretary (Department for Digital, Culture, Media and Sport) | [email protected]
If you live outside the region, here is the link to find details of your own parliamentary member: https://members.parliament.uk/members/Commons.