Centrebus matchday services will run on three routes to Welford Road this Saturday for the game between Leicester Tigers and Northampton Saints.
The bus services from Market Bosworth, Market Harborough and Oakham to Welford Road are provided by Centrebus with all services scheduled to arrive outside Welford Road 30 minutes before the 3.00pm kick-off.
A 70-seater double decker bus will be put on from Market Bosworth with two 40-seater buses available from Market Harborough and Oakham
See full details of the routes below.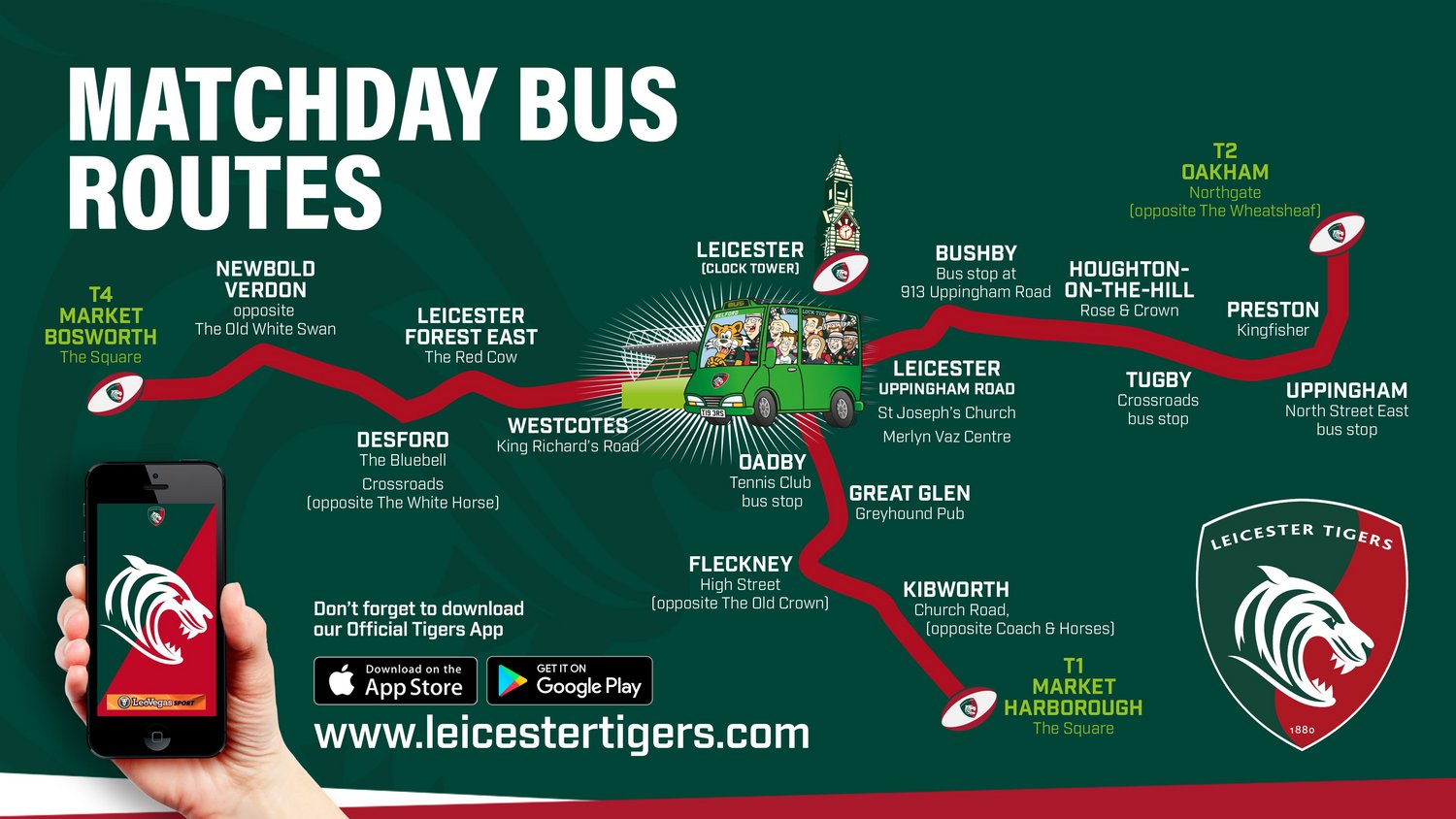 Market Bosworth to Tigers
1.37pm Market Bosworth (The Square)
1.46pm Newbold Verdon (Opposite The Old White Swan)
1.52pm Desford (The Bluebell)
1.57pm Desford Crossroads (Opposite The White Horse)
2.03pm Leicester Forest East (The Red Cow)
2.15pm Westcotes (King Richard's Road)
2.30pm Welford Road
Market Harborough to Tigers
1.30pm Market Harborough (The Square)
1.45pm Kibworth (Church Road, opposite Coach & Horses)
1.55pm Fleckney (High Street, opposite The Old Crown)
2pm Great Glen (Greyhound Pub)
2.15pm Oadby (Tennis Club bus stop)
2.30pm Welford Road
Oakham to Tigers
1.20pm Oakham Northgate (opposite The Wheatsheaf)
1:28pm Preston (Kingfisher)
1.40pm Uppingham (North Street East bus stop)
1.50pm Tugby (Crossroads bus stop)
2pm Houghton on the Hill (Rose & Crown)
2.03pm Bushby (Bus stop at 913 Uppingham Road)
2.06pm Leicester (St Joseph's Church, Uppingham Road)
2.15pm Leicester (Merlyn Vaz Centre, Uppingham Road)
2.30pm Welford Road