We are delighted to announce that the Fan Token Offering (FTO) for our new Official Fan Token – $TIGERS – is now live!
The FTO is live from 2.00pm BST on October 24 and each token can be purchased for a fixed price of £2.
FTO is being split into three 24-hour waves – during the first wave you will be able to purchase up to five $TIGERS tokens; you will then be able to up that number to 25 during the second wave; and the amount you can purchase throughout the third wave is unlimited.
For more information on how the FTO works then check out this handy infographic from our Twitter page.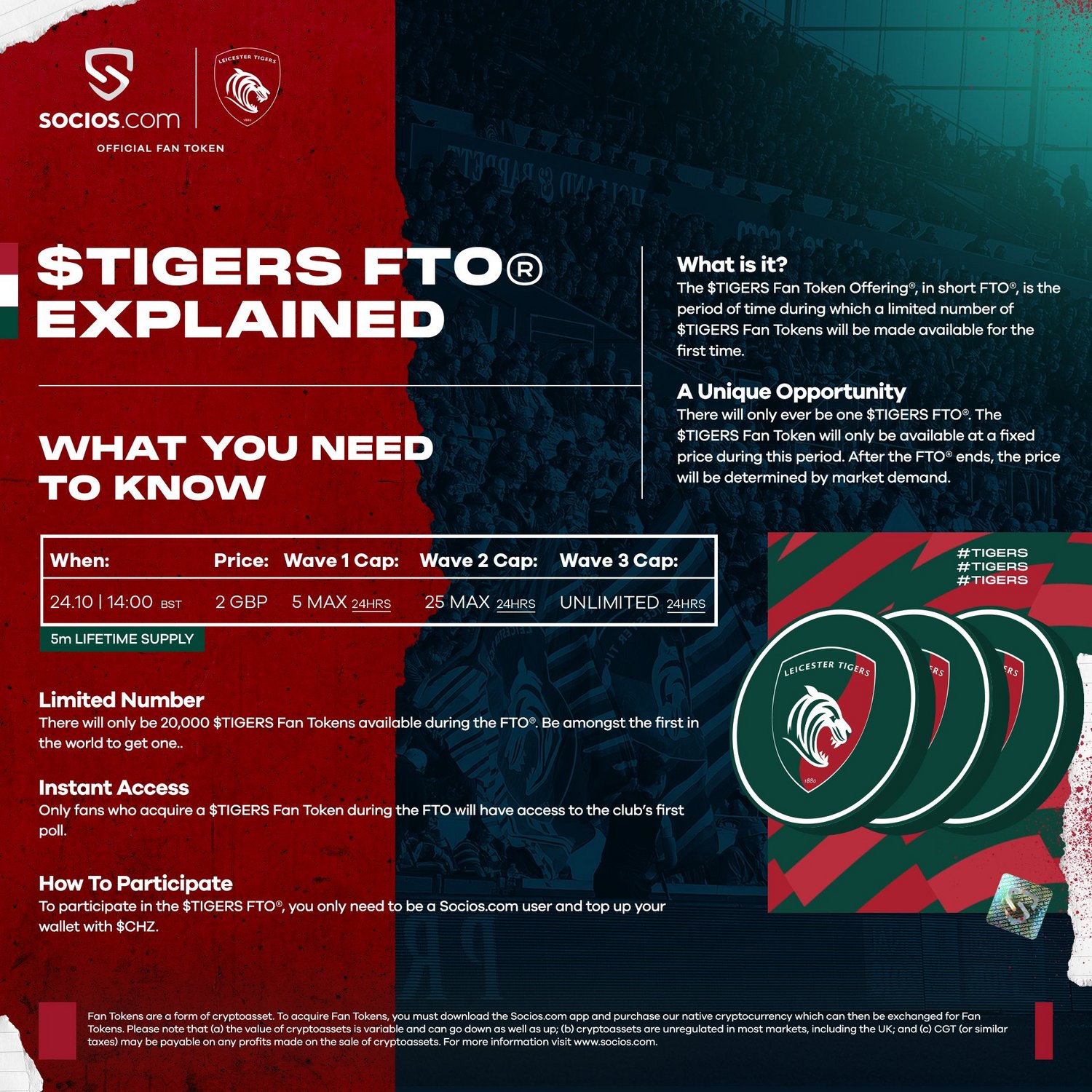 What is a $TIGERS Fan Token and why should I get one?
A $TIGERS FanToken is a digital asset which give holders access to money-can't-buy rewards and experiences, plus the right to vote on official club polls. By purchasing a $TIGERS token during the FTO, you will immediately have the opportunity to register your interest in winning 2x VIP tickets to a game of your choice, plus you will have the opportunity to spend the day with the Premiership trophy!
How do I purchase a $TIGERS token?
Download the Socios app – on the App Store, Play Store or via the web app*
Create an account
Click on the $TIGERS FTO banner at the top of the home page
Enter the amount of tokens that you'd like to purchase and hit 'Pay in $CHZ'
Top-up your wallet when prompted to meet the number of $CHZ required**
Return to the $TIGERS FTO banner and purchase your tokens
If you are not able to get your hands on a $TIGERS token during the FTO then don't worry as there will be further opportunities to purchase $TIGERS Fan Tokens throughout the season.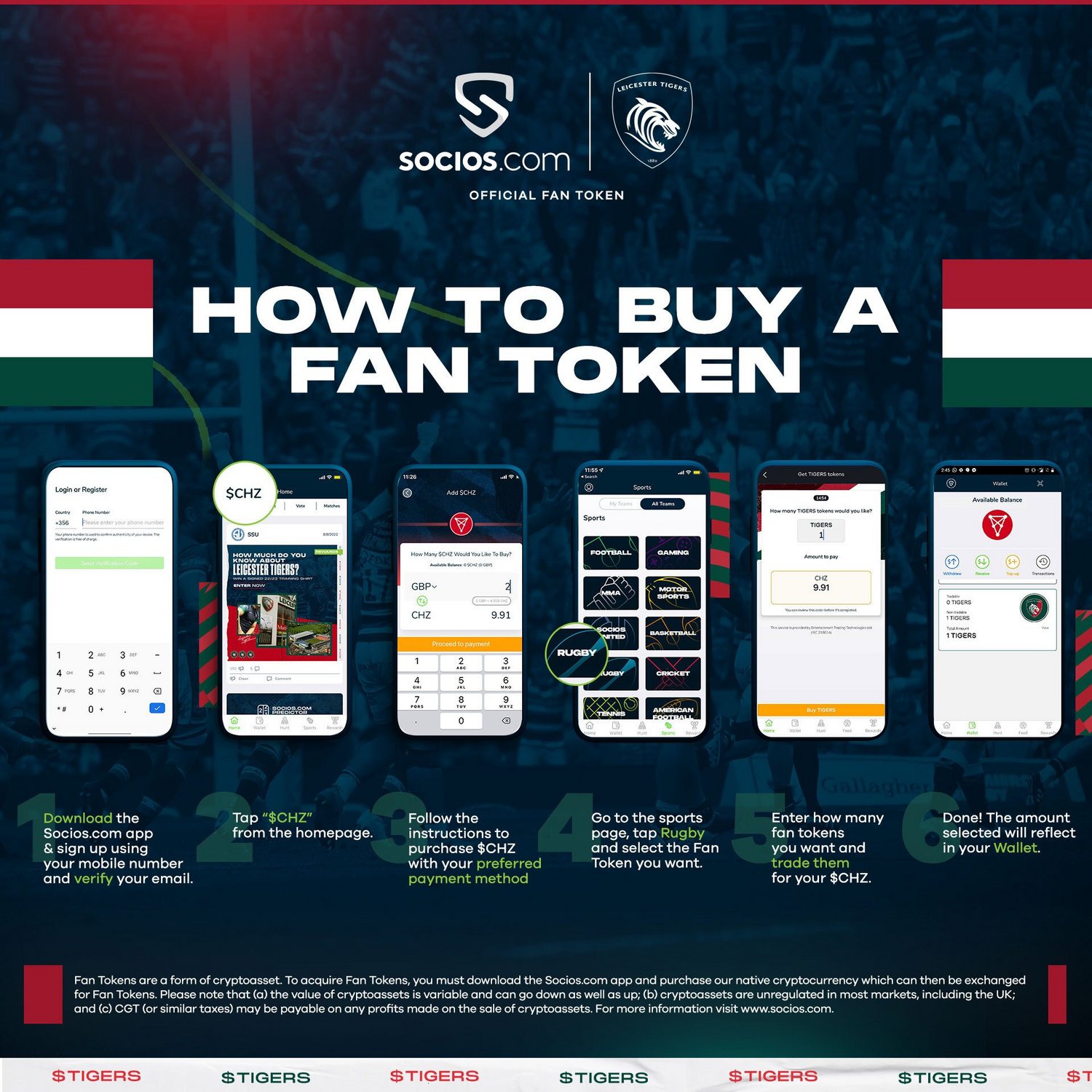 Terms & Conditions:
*The Socios app is not available in every country. Certain jurisdictions where cryptocurrency trading, selling and purchasing is prohibited or restricted are geo-blocked. If you are a resident of one of these countries and the Socios.com app is not visible in your country's app store then local legislation prevents Socios.com from making the app available to you.
**The top-up amount is pre-set to £25, however, this can be edited by tapping on the 25.
Fan Token Offering - Your questions answered
Leicester Tigers have announced a partnership with Socios.com, a global leader in digital fan engagement and rewards. Through its platform, Socios provides supporters around the world with access to an array of experiences, new opportunities for engagement, even more access to the club and players, and a community where you can engage with other fans.
The partnership has resulted in a number of questions from fans, in part due to this new area of blockchain-based technology being conflated with similar new platforms like NFTs (non-fungible tokens) and pure cryptocurrencies. Below we will try to address some of the common questions raised by our supporters and address any concerns.
Please note: $TIGERS Fan Tokens are a form of cryptoasset. To acquire fan tokens, you must download the Socios.com app, purchase the cryptocurrency, Chiliz ($CHZ), and exchange this cryptocurrency for $TIGERS fan tokens.
Although we only promote $TIGERS Fan Tokens as a tool to engage with the club, we recognise that a secondary market for trading does exist. As such, we remind you that:
(a) the value of cryptoassets is variable and can go down as well as up;
(b) cryptoassets are unregulated in the UK;
(c) capital gains tax may be payable on any profits made on the sale of cryptoassets.
The decision to open a cryptoasset exchange account on the Socios.com app and purchase $CHZ and/or $TIGERS fan tokens requires careful thought and consideration. We advise you to spend only what you can afford to lose, and always seek independent financial advice if you are in doubt. You should not purchase any cryptoassets if you do not fully understand the nature of your purchase and the risks involved. We recommend that you refer to the Socios app Terms and Conditions and Help Pages for more information.
Q.1 What exactly have Leicester Tigers announced and who are Socios.com?
Leicester Tigers have announced a multi-year commercial partnership with Socios.com, a leading global digital fan engagement and rewards platform. It will see the launch of a new digital-based fan app, designed to allow Leicester Tigers supporters around the world to interact with the club through a series of competitions, fan experiences on matchdays and non-matchdays, and votes in competitions and polls.
Supporters are able to take part in the programme by buying a Leicester Tigers Fan Token. Season Ticket holders will be provided with a free Fan Token. No supporter is obliged to have any involvement should they not wish.
Socios.com is a leading global fan engagement platform with 1.5m users in more than 150 countries. It has over 170 partners in 25 countries across 10 sport verticals, comprising American football, basketball, cricket, football, gaming, ice hockey, MMA, motor sports, tennis and, of course, rugby union. With the likes of Barcelona, Arsenal, Paris St-Germain and the Aston Martin F1 Team as partners, there has been a huge amount of global interaction with the platform already. Socios.com launched its first partnerships with fellow Premiership rugby union clubs, Harlequins and Saracens, on the same day as Leicester Tigers.
Q.2 But Leicester Tigers already have a ROARwards programme for supporters?
The ROARwards programme has been in operation for several years, allowing supporters to collect rewards through their interaction with the club and also on their spending at thousands of retail outlets, building ROARwards points to spend back with the club on tickets, events and merchandise. This programme is free to join and open to all supporters. ROARwards will continue to operate this way and is NOT being replaced by the agreement with Socios.com.
The club's Socios.com platform provides Fan Token holders with access to a global community of fans of the club and from other sports, and the opportunity to engage with other clubs of different sports.
We will be working hard with Socios to provide interesting engagement and prizes through Socios.com, but season ticket holder benefits will not be affected and the ROARwards programme will continue to offer its own benefits.
Each season ticket holder will be provided a free Leicester Tigers Fan Token as part of the Socios.com partnership. They do not have to use this if they choose not to.
Q.3 What are the benefits of the Socios.com partnership for the Club and our supporters?
This is primarily a proven digital fan engagement tool that will help the Club interact with young supporters around the world – more than 50% of Socios.com's users are aged between 24-34 years.
Socios.com provides an intuitive platform that allows Leicester Tigers to deliver more opportunities for supporter engagement, via polls on supporter community decisions, games and community features. The more supporters engage with their clubs and each other, the more they can claim rewards such as signed merchandise, hospitality tickets or access to experiences. This enables supporters to form communities with fellow Club followers, and given the size and scale of the platform, and the number of global users, it will help us grow our supporter base and make us stronger as a club.
This is also a commercial partnership and a key pillar of growth as the Club rebuilds from COVID-19 and continues on a journey to be financially stable.
Q.4 What are Fan Tokens and how do they work?
Supporters wishing to take part can purchase a Leicester Tigers Fan Token, with all 2022/23 Season Ticket holders receiving a token for free.
Fan Tokens are digital assets which give holders access to experiences, access opportunities and the right to vote on official polls. A single Fan Token is all you need to participate in polls related to the club, however certain fan token experiences will be "token-gated" and therefore require you to own more than one token in order to be eligible to win. The exact number of tokens needed for these select fan token experiences will be determined on a case-by-case basis. The number of tokens that supporters can put towards a vote in a poll, however, will always be capped to ensure a fair outcome.
The new Fan Tokens will be accessible via Socios.com's fan engagement platform, providing Fan Token holders with an array of experiences, new opportunities for engagement through polls, greater access to their club and its players, and a community where they can build networks with other supporters.
Fan Tokens will be made available through a fixed initial Fan Token Offering (FTO) price of £2. There is a set number of Fan Tokens available.
Q.5 Are people using Fan Tokens to make money?
Leicester Tigers do not encourage our supporters to use Fan Tokens to try to make money, and Socios.com makes clear that they should not be used for financial investment.
The data suggests globally that the majority of fans will not do this. Socios.com data shows that the average user holds 2.5 Fan Tokens and 80% of Socios.com users own fewer than five Fan Tokens.
Our focus is on making Leicester Tigers Fan Tokens provide supporters with great experiences and opportunities. The value comes from this utility.
Q.6 Can fans buy more than one token?
Yes, fans can buy more than one Fan Token.
One Fan Token is enough to participate in every Socios.com-related poll linked to Leicester Tigers. Owning more Fan Tokens essentially qualifies you for greater experiences and, in the case of some polls, greater influence.
All polls have token caps, which essentially limit the relative influence a token holder can have.
Q.7 There's been a lot written about NFT's and cryptocurrency businesses in sport – is this just another one of those schemes which just aims to make money out of fans? How is Socios.com different?
Leicester Tigers has chosen to partner with Socios.com as they are the market leader in the fan token space and focus on digital fan engagement. Of course, if a fan doesn't want to buy one, they don't have to. Fans who do choose to buy their Fan Tokens do so to become more involved within this digital community.
Importantly, Fan Tokens are purchased for a one-time fee and do not need to be renewed. The true value of the token – which comes in the opportunities and fan experiences offered to fans through the Socios.com platform – is not affected by the wider crypto market, as it is about the rewards and experiences on offer to token holders.
Q.8 Is the market for crypto currencies un-regulated? How responsible is the partnership?
The market remains unregulated and therefore the price of fan tokens go up and down based purely on supply and demand. It is important to stress this is not an investment tool – it is a fan engagement and rewards product that will unlock experiences for $TIGERS token holders. Do not purchase fan tokens for investment purposes and only purchase the amount of fan tokens that you feel comfortable with financially.
Q.9 Crypto currencies have been criticised for being environmentally damaging due to their energy consumption – how do Fan Tokens differ if based on blockchain technology?
Socios.com Fan Tokens are created on the Chiliz blockchain, which is moving to a 'proof of stake' model that is estimated to be 99% more energy efficient than the more widely used 'proof of work' model that has traditionally been used.
FURTHER INFORMATION: KEY FACTS ABOUT SOCIOS.COM
Socios.com has more than 1.5 million users in 167 countries.
More than 50 percent of Socios.com users are aged between 24-34 years.
Average user holds Fan Tokens of 2.5 partners.
Around 80 per cent of Socios.com users hold under 5 Fan Tokens in total
Around 50 per cent of Fan Token holders vote regularly on Fan Polls
300 polls were launched in 2021
5,000 fans were rewarded with tickets, merchandise, experiences, etc.
In 2022, more than 500 fan polls have already been launched and Socios.com plan on giving away 17,000 rewards, from official products and match-worn jerseys to free tickets and VIP experiences.
Socios.com has more than 170 partners in 25 countries across 10 sport verticals: American Football, basketball, cricket, football, gaming, ice hockey, MMA, motorsports, rugby and tennis.