*Photos taken pre-Covid
Leicester Tigers and Brooksby Melton College are hosting further Open Days at the college throughout May 2021 giving students the chance to experience a number of courses.
Over the previous six years, Tigers have supported the development of the Colleges sport science programmes and facilities, providing embedded learning & rugby opportunities supporting students to play, coach, train and work in the sports industry.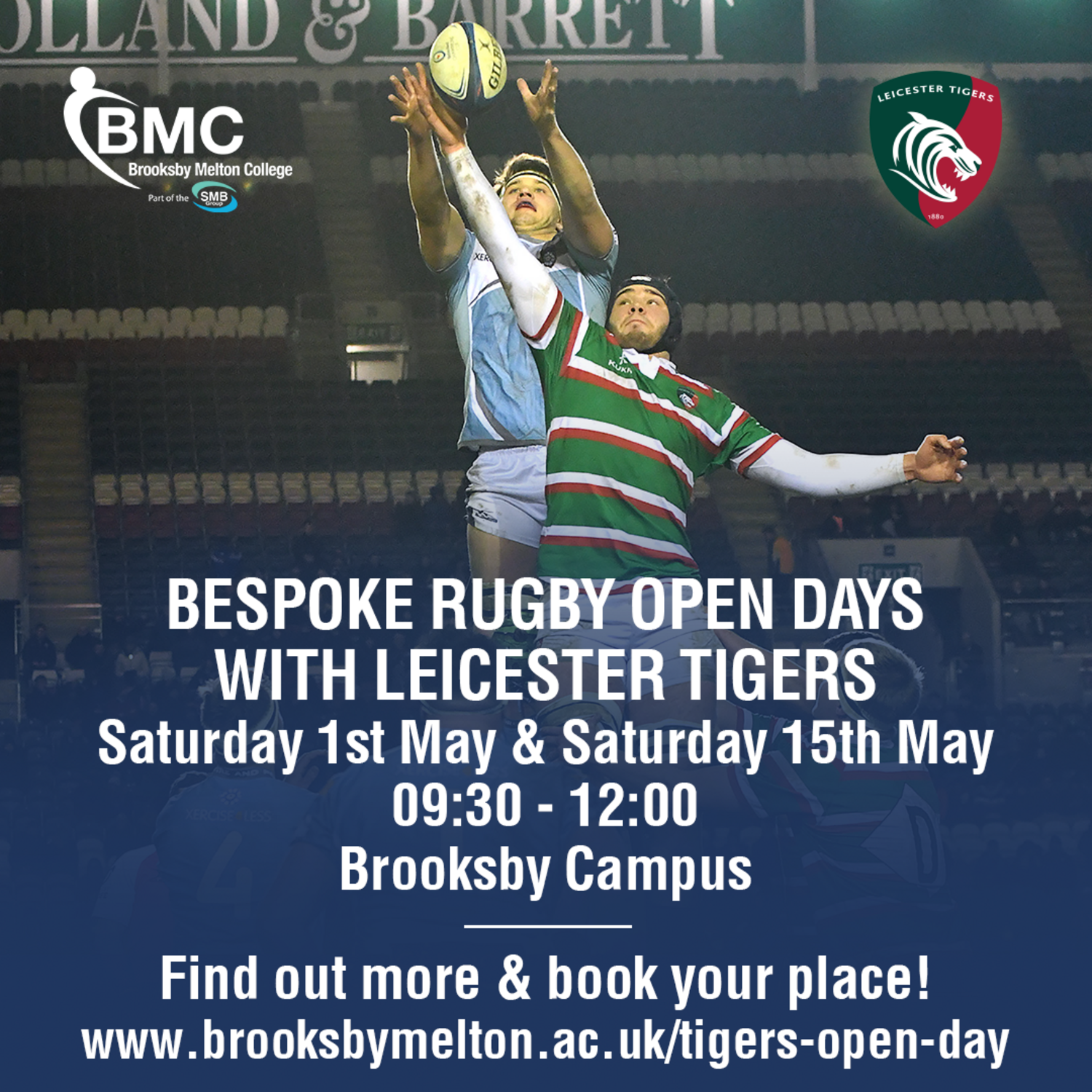 On Saturday, May 1 and Saturday, May 15, prospective students and rugby players are invited down to take part in a series of taster sessions at the Brooksby Campus at the college.
Players of all abilities can attend one or both sessions with the view of offering appropriate rugby placements to students in conjunction with their academic application.
The morning session will include a registration, welcome and introduction to sport at the college, led by representatives from both Brooksby and Tigers.
Coaches will then deliver an hour and a half rugby training session as well as a discussion around what courses are available for students.
Finishing mid-day, this is an incredible opportunity to not only discover higher and further education courses for those looking to a career in sport, but also the chance to train with Leicester Tigers coaches.
See the full Open Day details below, and for more information or to book your place, please contact
[email protected]
Dates: Saturday May 1, and, Saturday May 15
Venue: Brooksby Campus, Brooksby Melton College, (LE14 2LJ)
Time: 09:30-12:00
09:30am | Registration
We ask that parents to arrive no earlier than this, due to the COVID protocols in place at the campus.
A Questionnaire and temperature check will be done on arrival of Student car park withPlayers and parents will be asked to wait in the car until session begins
We would ask parents to stay in car, or, we will set up socially distance viewing areas – dependent on number of attendees
10:00am -11:30am | Rugby Session
Coaches from Academy and BMC will deliver a rugby training session alongside a brief/informal discussion around the rugby provision available at Brooksby Melton College.
In line with RFU guidelines, therefore, contact rugby may be included – but please bring appropriate kit
11:30am - 12:00am | Conclusion & Depart