Get yourself prepared for Saturday's Premiership Cup clash with Caldy RFC at Mattioli Woods Welford Road with The Game Plan.
In our official season-opener, we host the Championship outfit at Tigers HQ, kicking off at 3.00pm.
But, there is plenty happening pre-match to get you in the mood for the action on the pitch!
Key Timings
12.00pm - Final Whistle bar opens
1.30pm - All Turnstiles OPEN
1.30pm - The Plaza Prowl
3.00pm - Kick Off: Leicester Tigers v Caldy RFC
Pre-Match
The Final Whistle bar opens at midday, offering up scrumptious food and refreshing beverages to enjoy and ensure you're fuelled up for the match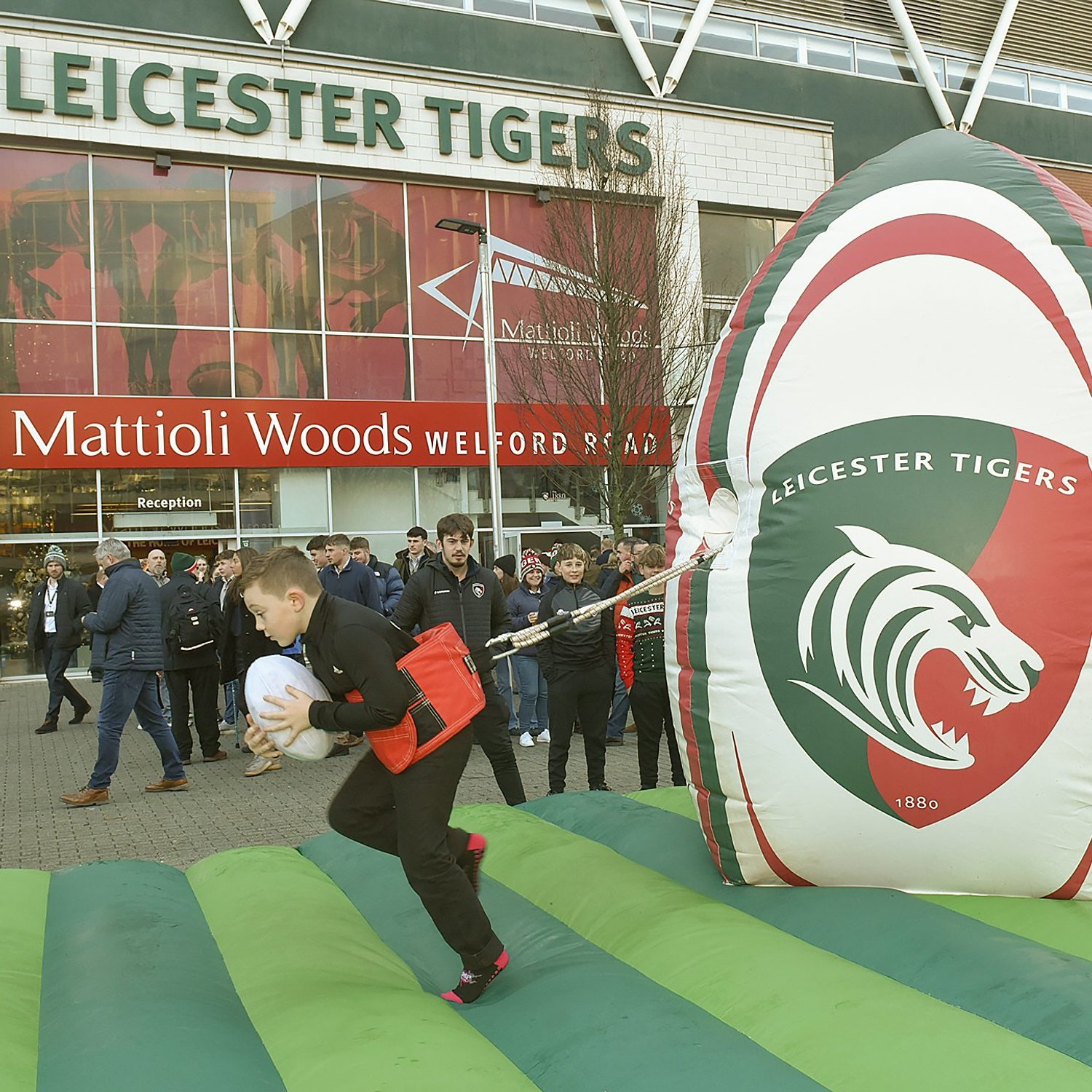 Meanwhile, for the youngsters attending the game, our fun-filled inflatables will be on The Plaza from 1.00pm.
Additionally, on The Plaza, there is an Outdoor Bar for parents to enjoy while the kids get involved in The Kicking Challenge, Try Line Tussle and Dartboard Challenge.
At 1.30pm, for the first time ever, we start matchday with The Plaza Prowl - which will see the squad make their way from Hotel Brooklyn, through supporters and on to the field ahead of the battle. Find out more HERE about The Plaza Prowl.
The Club Shop - located under Hotel Brooklyn - is open all day (from 9.00am) until one hour after the final whistle and has all the new ranges on offer including the 23/24 kit.
In fact, at 1.45pm, it's the place to be because you can meet Handré Pollard and Joe Heyes in-store!
Full-Time
Stick around after the match to get a selfie or signature from the players, who will make their way around the Mattioli Woods Welford Road pitch.
Additionally, this season, one of the lads will be answer questions LIVE on the microphone with Matchday Host Martin Ballard to get their reaction.
Key Questions ... and Answers!
Is this game included as part of my Season Ticket?
YES. All Premiership Rugby Cup fixtures are included.
Is there a Match Programme available to purchase?
NO. There will not be a Match Programme for this game. Fans can check out Team News for both games via the club website, Tigers App and social channels.
NO. The JTC is not open on Saturday.
Is The Club Shop open to check out the awesome new ranges available this season?
YES. The brand new Club Shop, located under Hotel Brooklyn, is open from 9.00am on Saturday morning until one hour after the match.
Got a question ahead of Friday's fixtures we haven't answered above? Let us know by contacting the Customer Service Team on 0116 319 8888 (option 2) between 9.00am - 5.00pm or emailing [email protected].