Pushing through the ranks as a young front-rower would be difficult at any club, let alone one boasting international options across all of the front three positions as Leicester Tigers does.

In a world where experience is key, and an understanding of the 'dark arts' of the set piece is just as important as athletic prowess, young props are an exception to the rule.

And that's why Leicester loosehead James Whitcombe is working round-the-clock to gain as much experience in as many different shirts as possible this season, so that when his time comes to pull on the green, white and red – like father Martin before him – he'll be ready.
"I really enjoy the physical aspect of the game," the 19-year-old says, when asked the appeal of packing down at the front of almost 900kg of sheer human power.
"That physicality is a really big part of my game. Carrying, tackling, clearing rucks – I really enjoy it."
The passion for his role is best illustrated in Whitcombe's second successive start for England Under-20s, away to Scotland in Round 2 of the Six Nations earlier this month.
The Keighley-born prop played a key role in building an impressive scrum and making his physical presence felt around the park, while club colleague Freddie Steward was among the try scorers at Myreside.
Whitcombe smiles when the parallel is drawn between the pair, who both stepped up from the title-winning Tigers Academy to the club's development squad for this season.
"This is a team sport, at the end of the day," he explains. "I enjoy setting the platform.
"The way I see it, it's my job at the end of the day to scrummage, create that set piece, hit rucks and make the tackles. For Freddie and those other lads, their job is to score tries.
"If everyone is doing their job to the best of their ability, then you'll get the result you need."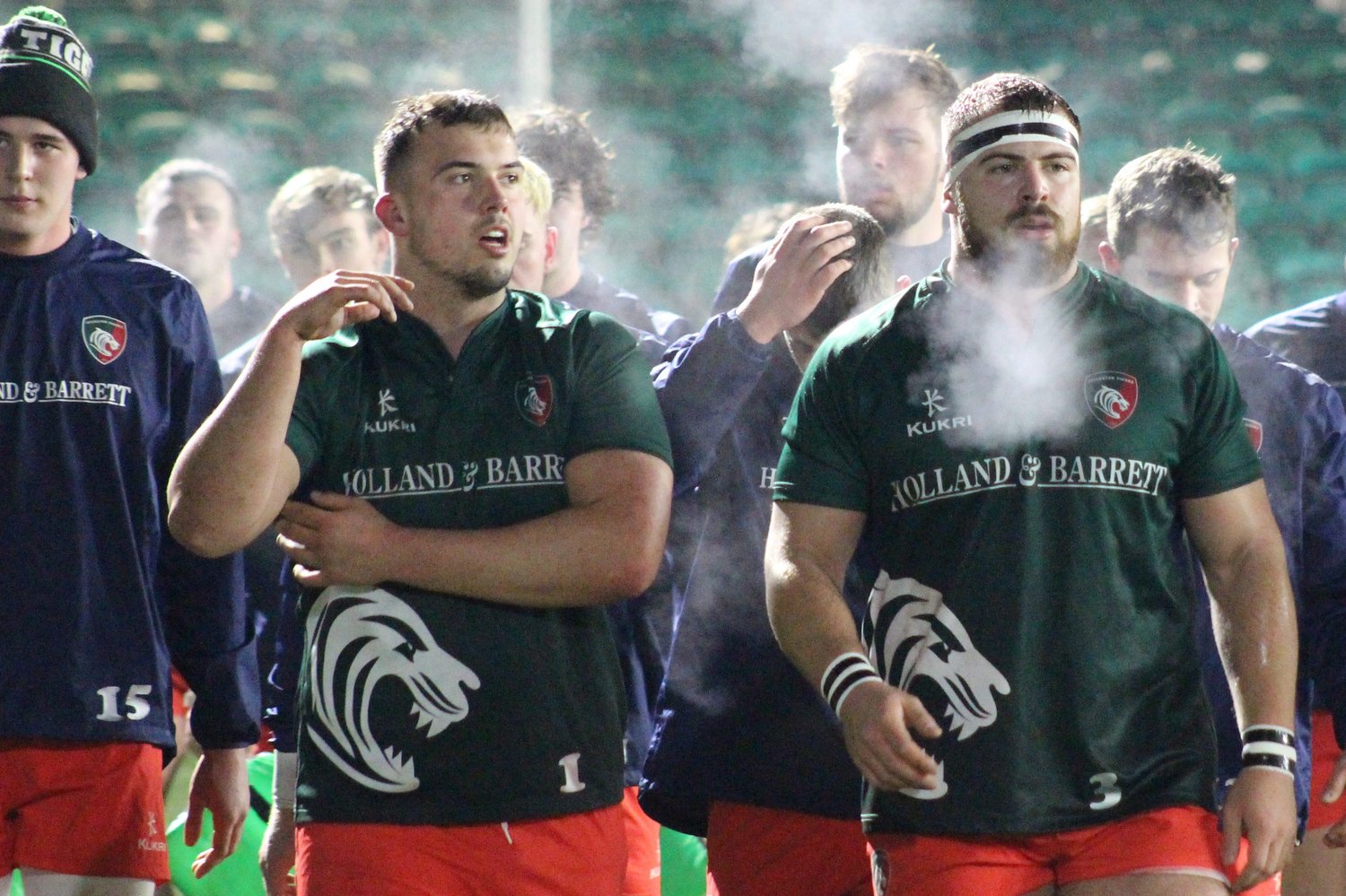 And Whitcombe has been doing exactly that this season, first as part of an exchange visit to Sydney University FC over the summer, at local club Leicester Lions in National Two, in a Tigers shirt in the Premiership Shield, and latterly for the Red Rose.
"Especially at this stage of my development, getting game time is really important. I'm just trying to get as much experience as I can.
"I've faced loads of different challenge playing for different teams so far this season … going out and playing in Grenoble in front of 40,000 people was a pretty big deal."
Indeed, being thrown into the cauldron that is the Stade des Alpes in a first start for England U20s would stop most young players wide-eyed in the headlights – but not one used to the atmosphere created at Welford Road.
"Grenoble was pretty brutal," Whitcombe recalls. "The crowd were right on our back. They're so passionate about their rugby, just like the crowd at Welford Road.
"Experiencing such an atmosphere was great, even if it was hostile. They don't like the English one bit!"
The experience will be added to the bank of knowledge Whitcombe is building up over the course of the season, as he makes the most of his opportunity to train alongside seasoned front-rowers like Dan Cole, Ellis Genge and Tom Youngs on a full-time basis.
And that's not forgetting the tutelage offered by Tigers prop-turned-scrum coach Boris Stankovich.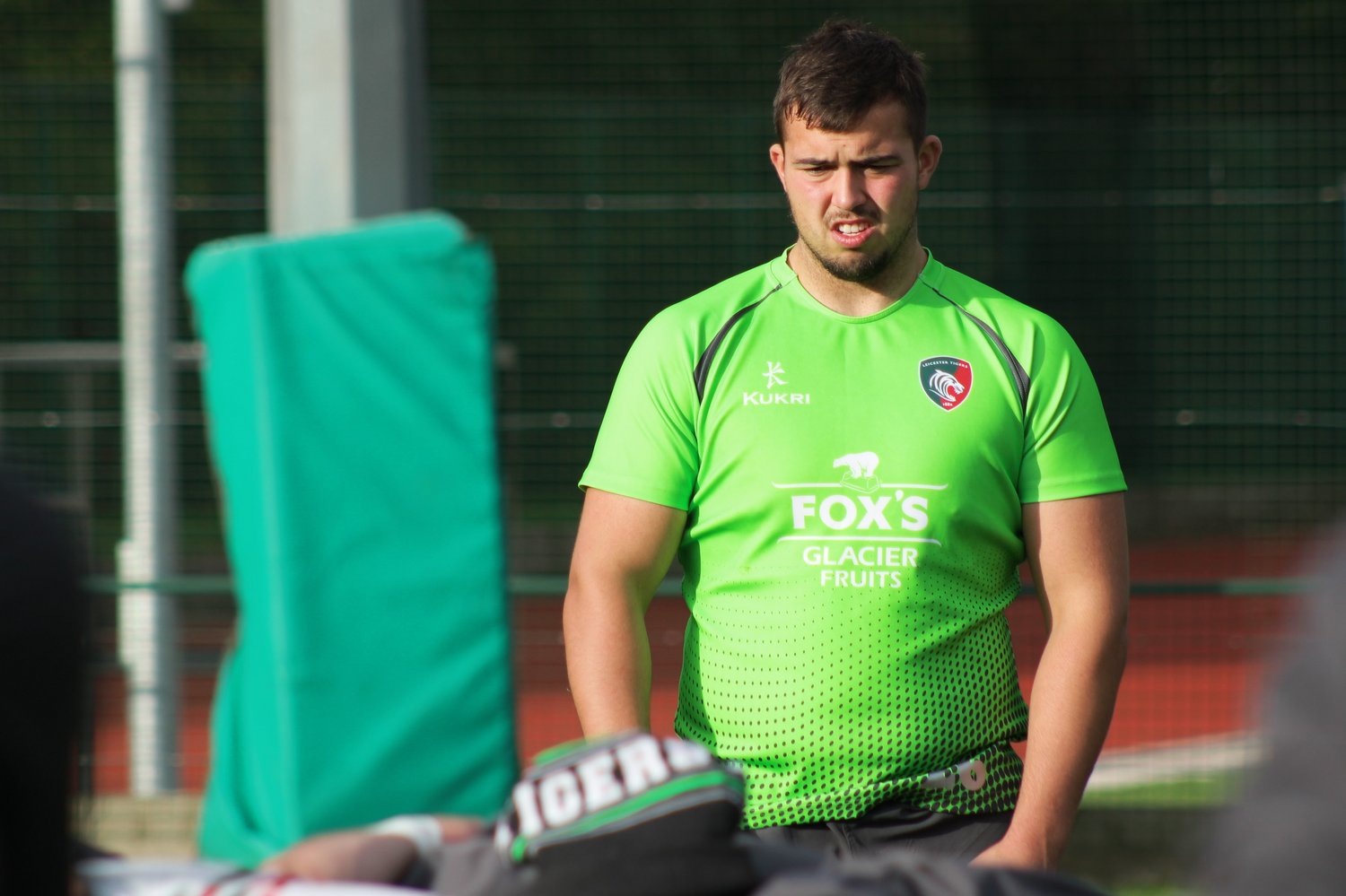 "Taking that step up [to the development squad] this season has been massively good for me," he continues.
"Going from the academy when you're in once a week to living here, in pretty much every day, training with all the international boys in my position and being coached by someone like Stanko every day – you learn so much.
"It's about those little pieces of attention to detail that you can pick up from the senior lads that they have learned through experience.
"So, for me, that might be about having my hand in a certain place or moving a foot just slightly. Not massive stuff, but really focusing on the detail stuff that makes the difference on the field.
"I wouldn't say there's one single piece of advice that sticks out, but certainly in my set-up for a scrum, I've learned a huge amount from Gengey, and [Tatafu Polota-Nau] has been really helpful to me as well."
After two successive starts in the No1 shirt for England's junior squad in the opening two rounds of the U20s Six Nations, Whitcombe missed Friday's loss to Ireland through club commitments.
But he's excited to bounce back and hopes to be in contention for a home clash with Wales – up against Tigers fly-half Sam Costelow – and then away to Italy.
"The England stuff has been really good," Whitcombe continues. "There's a really good group there – mainly young lads, in my year [Under-19s] – and a good set of coaches.
"I went into the tournament with an open mind, knowing that whenever you start is a bonus.
"As a group we're still getting better as the weeks go on, but it's been a good start.
"I was obviously really happy to get those two starts in a row, but now it's about building on that to push on."
Pun intended? Maybe. But we're looking forward to seeing James 'push on' in a green, white and red shirt, too.