Leicester Tigers host host London Irish at Mattioli Woods Welford Road on Sunday – check our Matchday Guide for everything you need to get the most out of the day.
Plaza activities, food and drink, and Junior Tigers Club from 1.00pm
Matchday bus services in operation on four routes
Kick-off is at 3.00pm on Sunday
Tickets
This game is included in all Tigers season tickets and all areas of the stadium are open.
Match tickets are still available. Book online or phone 0116 319 8888 (option 2). Or visit the ticket units on matchday – please allow time to find your turnstile and place in the stadium ahead of kick-off.
If you have any issues with your season ticket or a match ticket booking, call the ticket office ahead of matchday on 0116 319 8888 (option 2).
Stadium entry
Allow sufficient time to travel to the game and check your ticket to locate the correct turnstile before trying to gain entry to the stadium. Have your season ticket card, match ticket, print-at-home ticket or ticket on your smartphone ready to allow the easiest possible access to the stadium.
The club encourages supporters not to bring bags into the stadium in order to help minimise delays and contact due to searches at the turnstiles.
Follow signage and instructions from stewards in the areas closest to the teams in the Breedon Stand and help us to safeguard the welfare of players, officials and supporters by reducing congestion in the tunnel area before and after the game.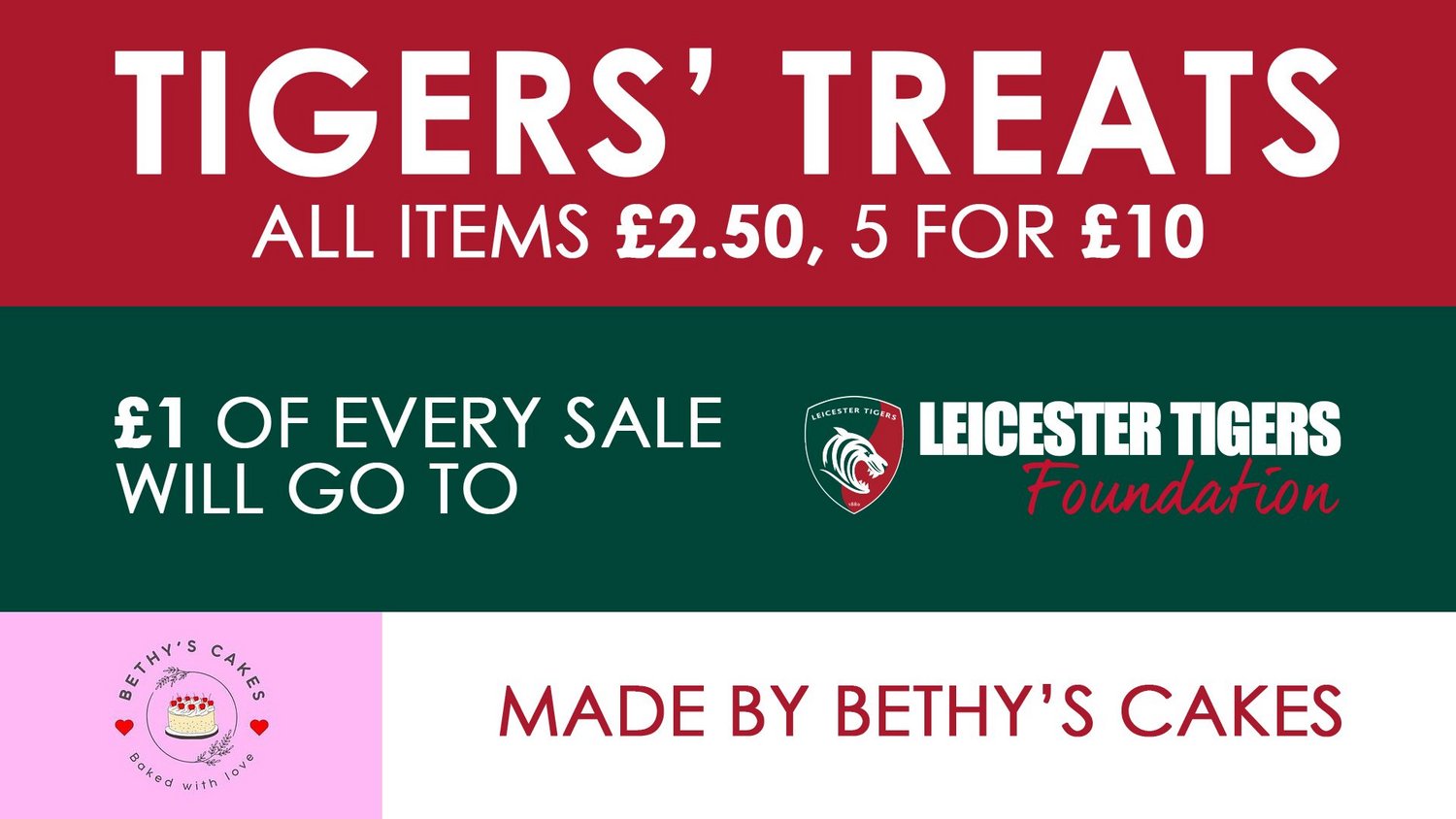 Ahead of kick-off
The plaza area between Mattioli Woods Welford Road and Hotel Brooklyn is open as a matchday fanzone with activities and entertainment from 1.00pm. There are inflatables for young supporters, food and drink outlets, and extra seating.
Club partners Breedon will be on-site supporting chosen charity MND Association, look out for Leicester Tigers Rib Eye Biltong from club partners Valeo Snack Foods and an appearance from Graypaul Maserati Nottingham who all feature on the plaza this weekend.
Tigers Treats is a new stall run by the Leicester Tigers Foundation with cakes and sweets.
The main Club Shop in the Beehive Money Stand is open all day. The second shop in the North Stand is also open on matchdays and there are Matchday Essentials booths around the stadium.
Season ticket holders receive a discount on shop purchases. Supporters can use any Credit on their Tigers account to spend on shop purchases.
Support the Leicester Tigers Foundation, Junior Tigers Club and Toys on the Table charity by donating a gift to young people in need as part of our Christmas Present Drop. You can drop off suitable gifts at the stadium on Sunday at special collecting areas provided by club partners Biffa on the plaza, reception, both club shops and in Junior Tigers Club. Click here to learn more.
For young supporters
The Junior Tigers Club is back! There are activities, games and entertainment, plus appearances from Tigers players in the JTC area of Final Whistle.
Membership is free to supporters aged 5-12. Sign up the youngster in your family now, and come and see what's on this matchday.
You can sign up and have the chance to have an item from your Christmas wish list delivered by a player too!
Wristbands are now available for children to wear at Tigers home games as part of a new safeguarding initiative. Supporting the club's Lost Child practices, stewards will be able to provide wristbands for you to add contact details and seat number in the unlikely event of a child being lost.
Travel and Parking
Tigers matchday bus services are in operation on routes from Loughborough, Market Bosworth, Market Harborough and Oakham.
Places must be booked before matchday. Click here for details.
Opening times
Stadium turnstiles are open from 1.15pm in the Yodel (North) Stand and 1.30pm in other areas.
Bars and kiosks
Final Whistle in the North Stand is open for early arrivals. The bar on the plaza is also a good meeting place for friends ahead of the game.
All other kiosks and bars open with the turnstiles from 1.15pm/1.30pm as above.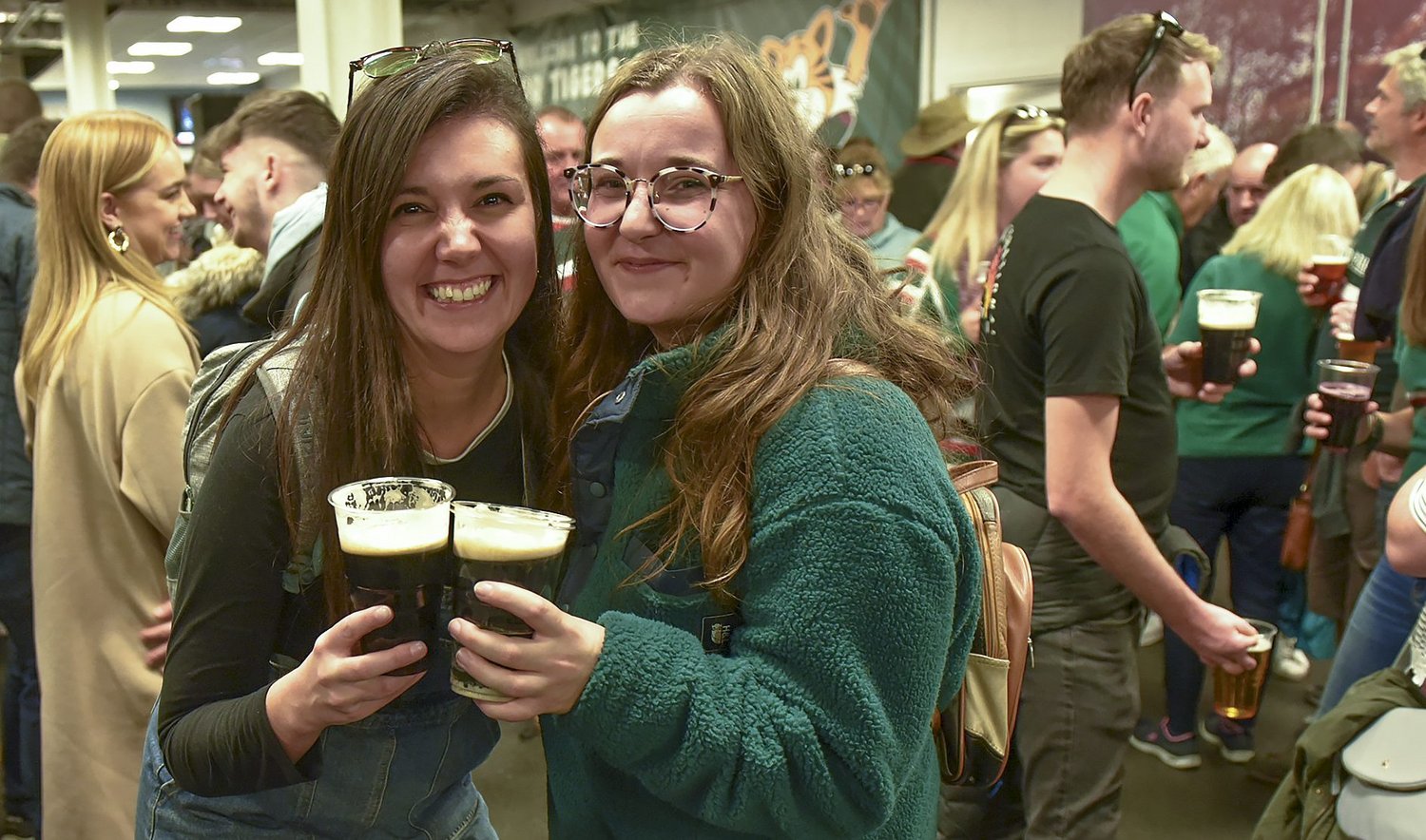 Stadium bars use recycled and recyclable plastic cups. There is no deposit paid or collected for cups, hopefully speeding service at the tills.
To help keep a clean stadium and increase our recycling, caterers Levy have generously agreed to give the Leicester Tigers Foundation a 10p donation for every used plastic cup placed in the MIXED RECYCLING bins around the stadium. This will raise a significant amount more than the previous arrangement as the Foundation will receive 10p for EVERY CUP YOU USE AND RECYCLE.
Making payments
The stadium runs cashless payments only, including shops, bars, kiosks and programme booths.
Staying over
Hotel Brooklyn next to the stadium is now open for overnight accommodation, food and drink or simply to enjoy on matchdays or any other day. Supporters are offered a discount of 10 per cent on all bedroom and suite bookings, and there are further reductions on food and beverage when guests stay. To take advantage of this offer, email your request direct to [email protected] and staff will create the booking and answer any questions.
To find out more about the hotel, click here.
Wellbeing and Safety
Please continue to take extra care over hygiene and sanitisation. If a ball is kicked to you in the warm-up or in the game, do not return it direct to the players or to the pitch. Instead, return to the ball boy team or a steward so it can be sanitised.
Match programme
Look out for another issue in our Heritage Series front covers and a look back through the pages of Tigers tales from previous years.
This week's 100-page edition includes a photo special from the club's historic Double Header earlier this month, a supporter's First XV pick, spotlight on visitors London Irish and all the news, views and stats behind the men's and women's teams.
Pick up your copy – price £4 – at a Matchday Essentials booth around the stadium or the Club Shop units.
Big match build-up
Teams from local rugby clubs joins us as Guard of Honour and Flag Shaker groups in the build-up to the game and welcome the teams.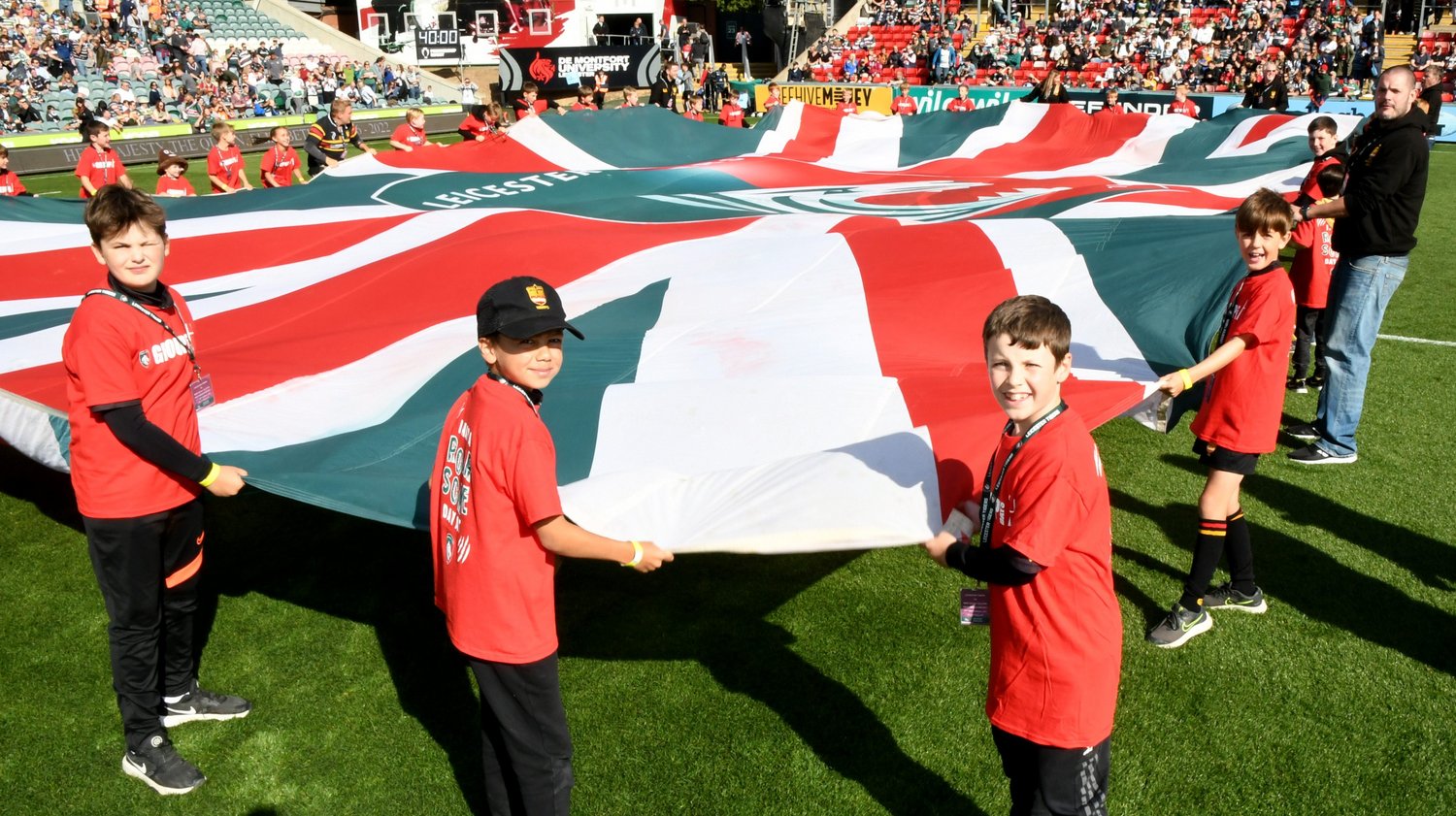 One group of supporters will watch from The Best Seats in the House courtesy of club partners Mattioli Woods, and there is a chance to win a free pint in the Topps Tiles Golden Tile promotion.
The playlist with club partner PRL PPS this week is supplied by a Tigers fan for the pre-match build-up.
Kick-off is at 3.00pm.
Half-Time
The under-10s teams from the Prima Tiger Cup will be on the pitch for their half-time photos alongside young players from Matchday Coaching Clinics and, of course, there is The Ultimate Big Boot, sponsored by De Montfort University, which provides groups of supporters with a test of skill and nerve on the pitch.
Voting to find the Fans' Favourite opens on the club app and the winner will be announced at the end of the game.
Post-match
Supporters must keep off the pitch at all times.
Final Whistle in the North Stand and the Droglites bar in the Mattioli Woods Stand remain open at the end of the game.
There is live music from Rock Bottom in Final Whistle and more live music for guests in the Clubhouse Lounge.
The main ticket point outside the Yodel Stand will remain open after the game for season ticket sales and match ticket sales for upcoming fixtures.
If you are unable to attend
This game is scheduled for broadcast by BT Sport or you can follow updates with Matchday Live coverage on the club website and app, or on the Tigers social media channels.