Leicester Tigers partners Samurai Sportswear are resuming their pre-COVID product innovation with the launch of the Iconix 220S rugby shirt.
After three years of research, experimenting and evaluating feedback from customers, the new Iconix 220S match shirt is available to professional and amateur teams worldwide.
Capable of carrying any unique design graphics, the Iconix product has an enhanced functional and performance profile as a result of new design features and technical gains.
The earlier Iconix model is already in use at Gallagher Premiership clubs Exeter Chiefs and Sale Sharks, and by Wasps Ladies, Bay of Plenty in New Zealand, South China Tigers, China Lions and the British Army Rugby Union teams, all of whom will be upgrading to Iconix 220s.
The Iconix 220S has also been selected by Tigers for the 2020/21 season.
Tigers are expected to reveal their new Iconix home and change designs in mid-July.
An important principle of Samurai's business model is that amateur and semi-professional teams can access the same shirt performance as elite teams.
The performance increase of the new Iconix 220S shirt derives from a harder-to-scrag collar, specific compression zones for better muscular control and endurance, increased flat-seam stitching and saddle sleeves for reduced drag, new under-arm panelling to prevent pinching, and increased breathability and wicking from the Kohino 4DX fabric and Performex moisture management system exclusive to Samurai.
The Iconix 220S retains the industry-leading 800 Newton seam strength of its predecessor.
Samurai Sportswear creates unique sportswear identities for teams, using high performance fabrics and designs. Products are developed using industrial research, exceeding international standards wherever possible, and backed by independent laboratory testing who routinely performance test products against leading competitors.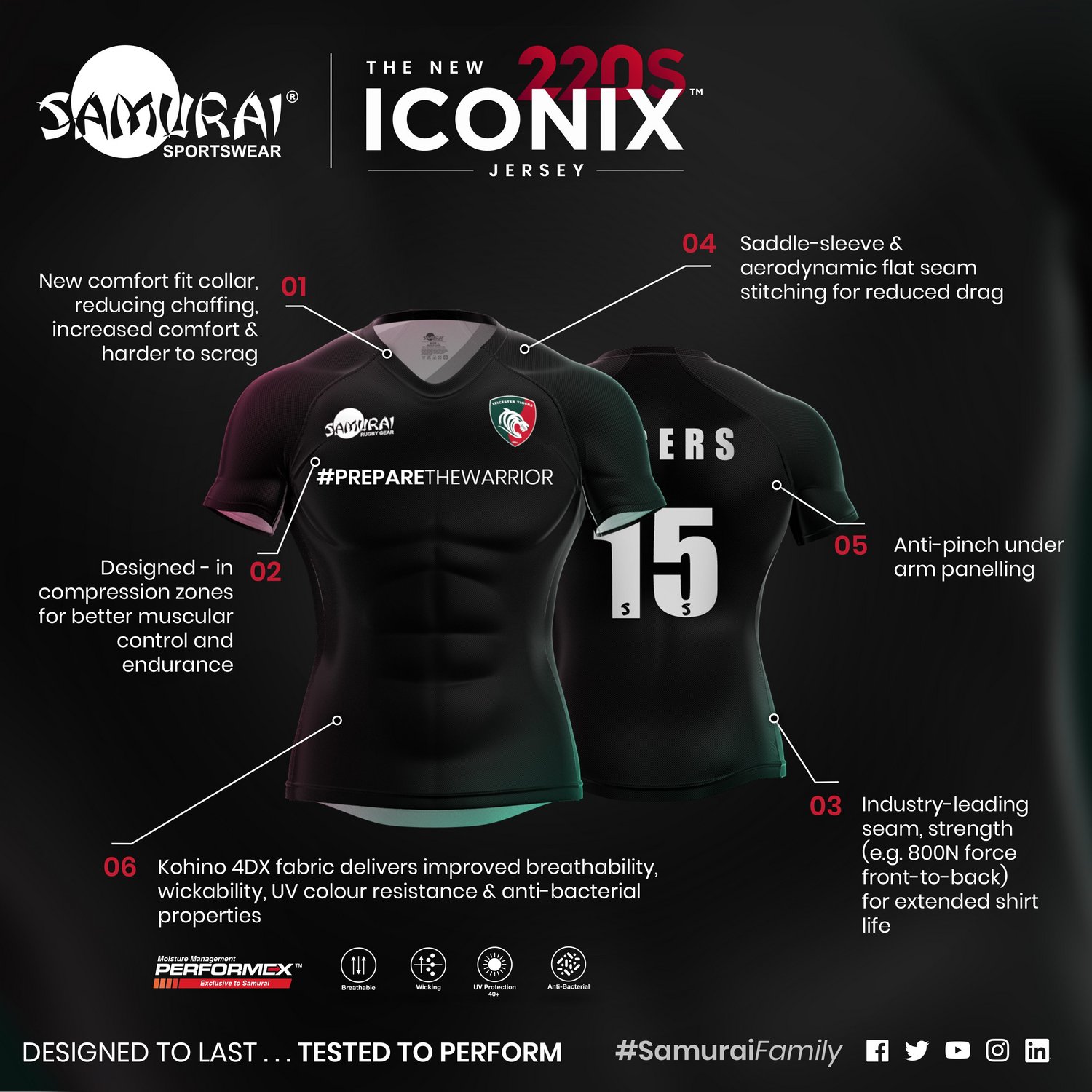 End-to-end ownership and control of the supply chain puts Samurai in a unique position to take visual customisation of playing and supporters' kit to an unmatched level.
They are not restricted to using stock items from a limited range of colours and patterns which may give the appearance of a unique team identity but which in reality is being used by dozens or hundreds of other teams. Samurai's supply chain control lets them assure fabric performance, design quality, training and continuous compliance with technical standards. They don't manufacture products for any other company.
To celebrate the launch of the Iconix 220S, Samurai are offering £5 off the Teamwear Price of every Iconix 220S Match Jersey for all grass roots clubs below Level 4.
Terry Sands, chief executive of Samurai Sportswear, said: "We have a strong track record of investment in research and development, and had already committed to completing the Iconix 220S programme prior to COVID-19.
"With rugby either restarting or about to restart worldwide, and as a modest family-run business, we're delighted to bring a positive development to the sport after some months of uncertainty and anxiety for teams everywhere. We sincerely and with humility believe that Iconix 220S is the best performing matchday rugby shirt in the world at the moment and we have the data to prove it.
"We're humbled and grateful that Leicester Tigers agree with us on that and look forward to seeing the first Iconix 220S appearances this coming season."
For information on using Samurai Sportswear for your local club, email [email protected] or phone 01508 531010.