Leicester Tigers held a special wreath laying ceremony after unveiling commemorative plaque at Welford Road to remember the 46 Tigers players who died during both World Wars.
Following Tigers' Premiership Cup Fixture against Sale Sharks last weekend, fans who took part in the pre-match commemoration holding a wreath bearing the name of each of the 46, met by the 'Wall of Honour' plaque by the 'Wall of Legends' in the Robin Hood Stand.
Before kick-off, the club carried out the traditional commemorations of the playing of 'The Last Post' by bugler Matthew Rowland and trumpeter Jason Hobson. Roy Anthony Birch, of the Western Front Association, recited the Exhortation as Tigers player wore a special shirt featuring the centenary 'Thank You' poppy logo.
After the game, fans braved the wind and rain to lay down each of the wreaths joined by British legion Standard bearers from Syston and Hinckley. Bugler Matthew Rowland closed the ceremony with the playing of 'Sunset'.
Tigers recently shared news with fans updating of the club's plans to build a Foundation Monument with a view to construction beginning in the New Year.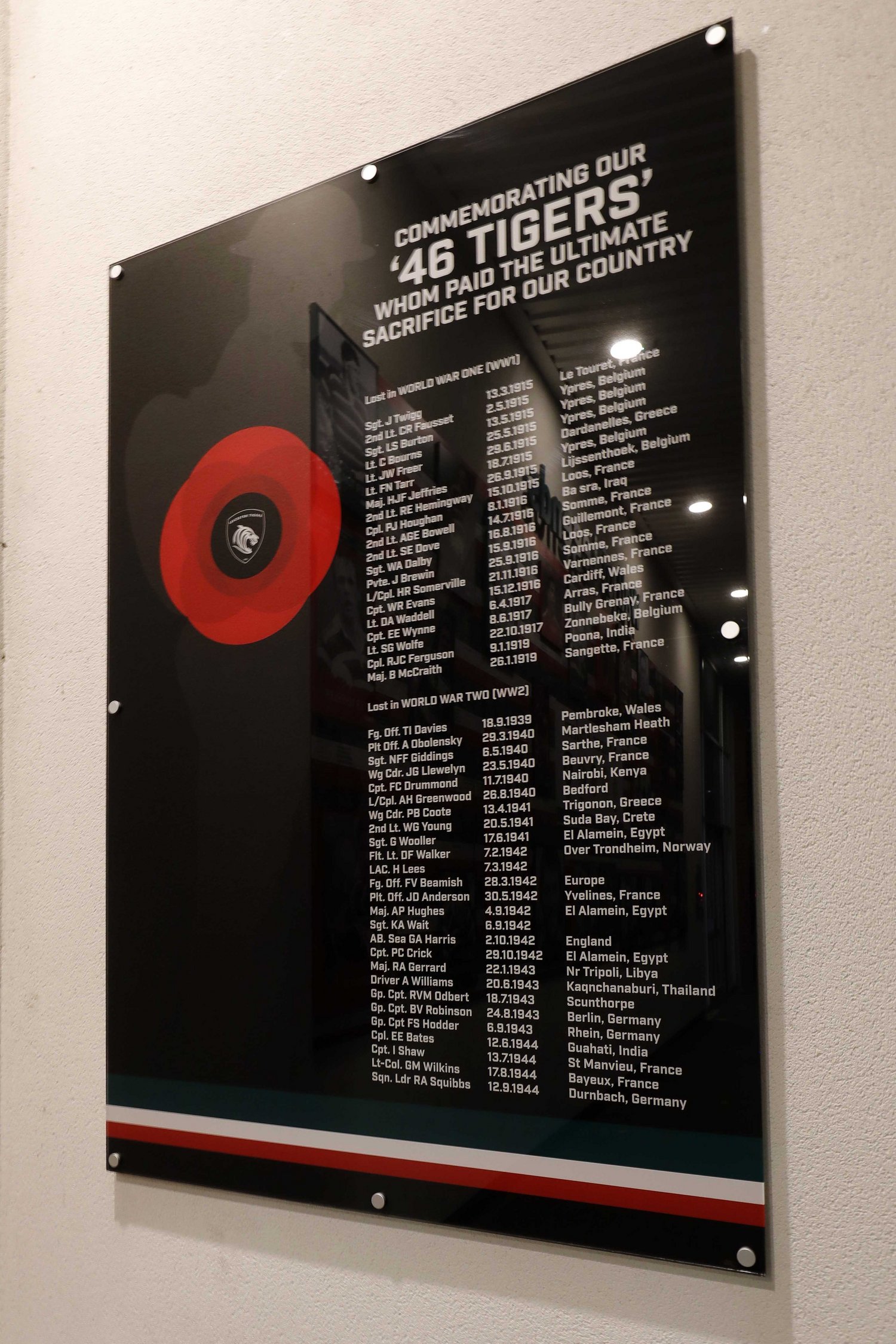 See below each of the names of the Tigers 46.
WORLD WAR ONE
Sgt. J Twigg 13.3.1915 Le Touret, France
2nd Lt. CR Fausset 2.5.1915 Ypres, Belgium
Sgt. LS Burton 13.5.1915 Ypres, Belgium
Lt. C Bourns 25.5.1915 Ypres, Belgium
Lt. JW Freer 29.6.1915 Dardanelles, Greece
Lt. FN Tarr 18.7.1915 Ypres, Belgium
Maj. HJF Jeffries 26.9.1915 Lijssenthoek, Belgium
2nd Lt. RE Hemingway 15.10.1915 Loos, France
Cpl. PJ Houghan 8.1.1916 Ba sra, Iraq
2nd Lt. AGE Bowell 14.7.1916 Somme, France
2nd Lt. SE Dove 16.8.1916 Guillemont, France
Sgt. WA Dalby 15.9.1916 Loos, France Pvte.
J Brewin 25.9.1916 Somme, France
L/Cpl. HR Somerville 21.11.1916 Varnennes, France
Cpt. WR Evans 15.12.1916 Cardiff, Wales
Lt. DA Waddell 6.4.1917 Arras, France
Cpt. EE Wynne 8.6.1917 Bully Grenay, France
Lt. SG Wolfe 22.10.1917 Zonnebeke, Belgium
Cpl. RJC Ferguson 9.1.1919 Poona, India
Maj. B McCraith 26.1.1919 Sangette, France
WORLD WAR TWO
Fg. Off. TI Davies 18.9.1939 Pembroke, Wales
Plt Off. A Obolensky 29.3.1940 Martlesham Heath
Sgt. NFF Giddings 6.5.1940 Sarthe, France Wg
Cdr. JG Llewelyn 23.5.1940 Beuvry, France
Cpt. FC Drummond 11.7.1940 Nairobi, Kenya
L/Cpl. AH Greenwood 26.8.1940 Bedford Wg
Cdr. PB Coote 13.4.1941 Trigonon, Greece
2nd Lt. WG Young 20.5.1941 Suda Bay, Crete
Sgt. G Wooller 17.6.1941 El Alamein, Egypt
Flt. Lt. DF Walker 7.2.1942 Over Trondheim, Norway
LAC. H Lees 7.3.1942
Fg. Off. FV Beamish 28.3.1942 Europe
Plt. Off. JD Anderson 30.5.1942 Yvelines, France
Maj. AP Hughes 4.9.1942 El Alamein, Egypt
Sgt. KA Wait 6.9.1942
AB. Sea GA Harris 2.10.1942 England
Cpt. PC Crick 29.10.1942 El Alamein, Egypt
Maj. RA Gerrard 22.1.1943 Nr Tripoli, Libya
Driver A Williams 20.6.1943 Kaqnchanaburi, Thailand
Gp. Cpt. RVM Odbert 18.7.1943 Scunthorpe
Gp. Cpt. BV Robinson 24.8.1943 Berlin, Germany
Gp. Cpt FS Hodder 6.9.1943 Rhein, Germany
Cpl. EE Bates 12.6.1944 Guahati, India
Cpt. I Shaw 13.7.1944 St Manvieu, France
Lt-Col. GM Wilkins 17.8.1944 Bayeux, France
Sqn. Ldr RA Squibbs 12.9.1944 Durnbach, German