This is the fifth part of a multi-part series on the evolution of Leicester Tigers Women from Year 1 to Year 2 as they prepare for their first season in Premiership Women's Rugby. This is the writing of a new history.
The sport of rugby is often praised for its inherently diverse nature. The game itself requires players with an array of talents, from your hulking, powerful front-row, to the pure speed demons on the wing. The top rugby nations in the world are split across the continents of Africa, Asia, Europe, Oceania and South America.
But just as all who play the sport are different to one another, so too are the ways in which players develop to reach the top level. Some players are unstoppable prodigies, defined to seize the game as soon as they pass into adulthood, blessed with physical capabilities far ahead of their peers and a tactical understand that belies their youthful nature. Some players, put simply, are destined to play professional rugby.
However, the vast majority of professionals take substantial time to reach that level. In some cases, it's because further experience is needed to have a better understanding of tactical roles and the nuances of the game, in some cases it may be additional conditioning or strength training, to ensure athletes can reach the demands required at the pinnacle of the sport.
All of these players, whether bursting onto the scene through as a teenager or an adult, are united by their need for a pathway to success. This article will discuss exactly how the newly-established Tigers pathway was forged, why it's so crucial to success and exactly how this may work in principle to provide a route to becoming a first team player and running out at Mattioli Woods Welford Road to represent Leicester Tigers women.
What's the Tigers pathway?
Pathway programmes are the foundation of all the top sports teams in the world. Leicester Tigers fans will know all about the famous Tigers Academy and the incredible success they have enjoyed both in the Youth leagues and in transitioning to the first team, with names like Lewis Moody, Dan Cole and, more recently, Freddie Steward established stars having come through its vaunted halls.
The pathway to the first team within Tigers Women now includes an already established link with Lichfield, a newly established relationship with Kenilworth Rugby Club and the Leicester Tigers Girls Rugby Pathway Programme at Brooksby College.
Head of Pathway, Fraser Goatcher, is the Head Coach of Lichfield Women's team and we talked with him about how they fit into the wider plan, through his conversations with (Head of women's rugby) Vicky Macqueen, (Senior coach) Tom Hudson and Kenilworth's Head Coach, Becky Lewis.
"Within these weekly conversations, I discuss training, what the girl's are working on and how they have been developing. Vicky and Tom will then lay out the key areas they would like to see worked on or focused on in particular and we discuss how we incorporate this into the sessions.
"Although of course it may not be like for like, there is a concentrated effort to bring in the key elements of the side's gameplan to ensure cohesion and to ensure those stepping up won't feel as daunted.
"I'll give regular updates as to how the pathway players are getting on in all aspects of training and games. This doesn't just apply to those who have been heavily involved with the first team set-up already, but also those who may be newer to the sport and show enormous potential."
At Brooksby, Rugby Operations Manager Steve Hanna discusses how their course will aid young talent in reaching their full potential.
"We have student athletes who access rugby at the college delivered by Leicester Tigers. They can study a variety of courses - A Levels, T Levels or BTEC's, whilst playing competitive fixtures against similar sporting colleges.
"The beauty of the set up we have at Brooksby is that the girls are coached by members of the Tigers coaching staff and share a lot of the playing philosophies. Sharing the resource of the likes of Tom, Luke (Stratford, Forwards coach) and Kingsley (Morgan, Lead Analyst) has been incredibly helpful to the girl's development. We are able to use tried and tested elements of the sessions as well as footage from games to demonstrate effectiveness.
"The girls are timetabled for Education sessions in the morning and train Monday, Tuesday and Friday afternoons with fixtures on Wednesdays and with Thursday being a rest day from rugby whilst timetabled for education".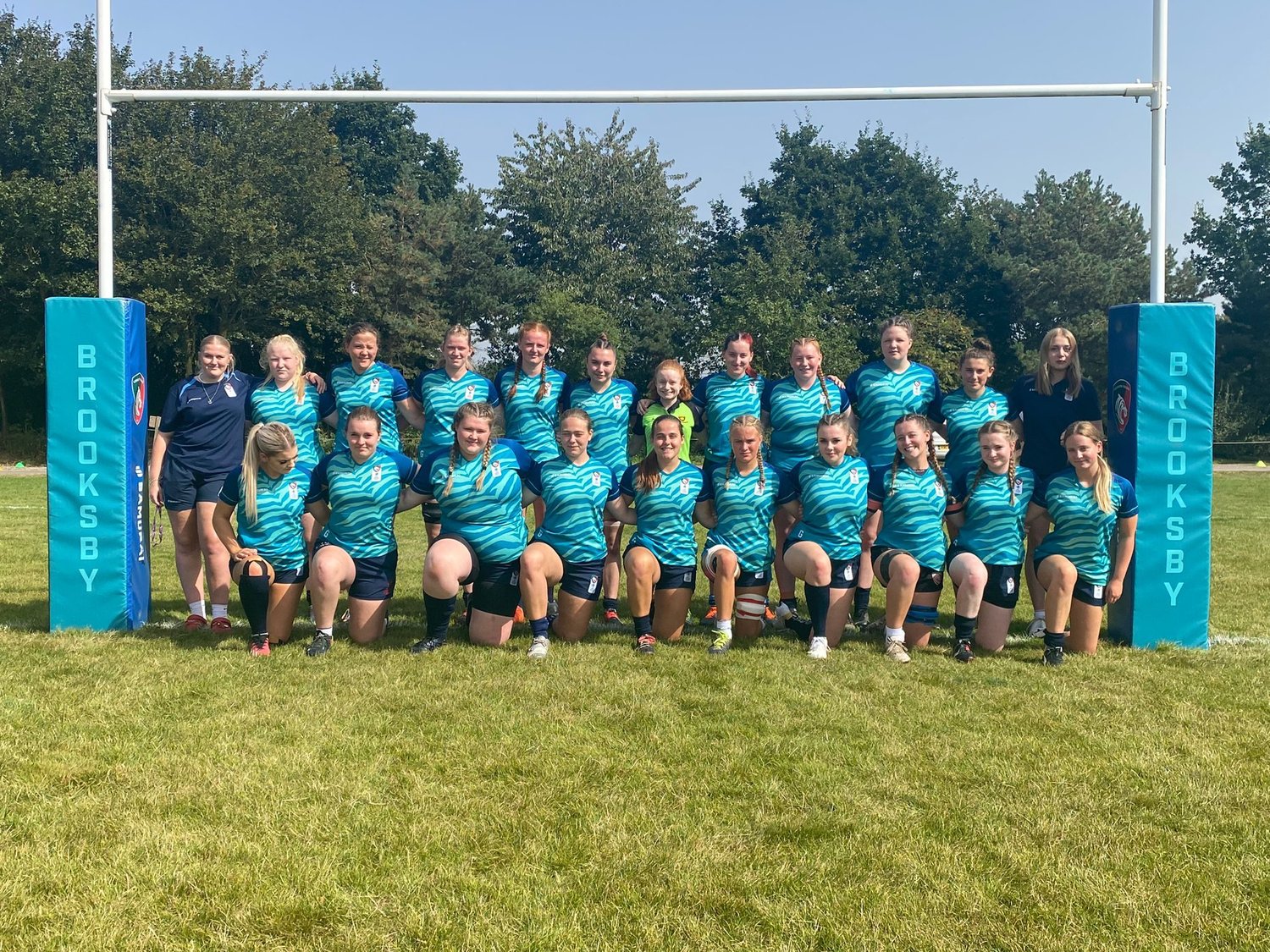 How has the pathway evolved?
With Leicester Tigers' first ever women's rugby season in 2022/23, this season also saw the first semblance of the pathway open up.
"The pathway started last year, with players playing consistently at Lichfield. There was a regular stream of players who would play at Lichfield and vice versa, with a dual training session once every other week and Tigers coaches coming down once a month" said Goatcher.
"Now it's every other week there's a session with Tigers coaches, that focuses on game elements. This also includes full access to all of Tigers' nutritional help, strength and conditioning help and any additional physio needs they may require.
"I am in conversations every week with Vicky and Tom Hudson around how the sessions at Lichfield and Kenilworth can align with what the first team are doing at Oaks Park. The buy-in for the pathway system from all the coaches has been nothing short of phenomenal and we've seen a real benefit as a result. I'm sure it'd be all too easy to palm it off to me but they are really invested in the process."
For the younger players plying their trade at Brooksby, the course has seen great strides made in a such a short period of time.
"The girl's programme has evolved massively over the last few months" said Hanna "We stood in front of the current year two's asking them to trust us as we built a girl's program to complement the work being undertaken on the Women's team to enable them to grow. We started with a cohort of 11 last year and have increased this with another 15 students who have now played in their first fixture for the college.
"Over the summer, the girls were invited to attend pre-season at Lichfield and found that transition smooth, aware of key details around the attack and defensive focuses of the coaches. The pathway to the elite levels of the women's game is considerably shorter and narrower for the students and they have benefited massively for the experience.
"The program is on a very sharp progression and as the women's and girls game grows so will the program. The eventual aim is to be able to mirror the boys program at Brooksby with two girls squads competing according in the ACE and AoC leagues, seeing girls transition into both our partner clubs and our women's first team here at Leicester".
How does it work in practice?
Of course, what is most important is how this will actually work, how will the transition period work for players on the edge of making it to Premiership standard?
A prime example of the pathway system in full effect is the aforementioned Dan Cole.
Cole spent vital development time at Bedford Blues and Nottingham Rugby, a three-year period that saw him transition from the back of the scrum to the front, converting from No. 8 to tight head prop as he honed his craft in the scrum.
When he came back to Tigers, injuries to Julian White and Martin Castrogiovanni opened the door to Cole, who grabbed his opportunity with both hands. We asked Goatcher how he would help players make that step up.
"100%, if there's a player performing well at Lichfield and are keen to be involved at Tigers, then they will get that opportunity" the Head of Pathway said "A perfect example of the pathway is Charlotte Daley. She joined Lichfield at the beginning of last season as a very raw, talented athlete. She had played some rugby but was still very much at the start of her journey.
"Through the pathway, we could see her skillset evolving much quicker than the average player, due to her incredible athleticism.
"Usually, we would assess over a six-month period and if players are meeting the criteria for what I would like to see and what Vicky/Tom would like to see, we would invite them down to train with the first team. Then once they've been involved in the wider squad and can be officially dual registered players, we have to make a call as to what is best for them. Will we send them out on loan to our partner clubs to make sure they get regular minutes or are they ready for the Allianz Cup or PWR.
"It's vitally important: they are not going to develop or learn things in the same way if they are not playing regularly. You can keep a girl on the bench and give them minutes here and there but they wont be able to truly learn their position or impress the coaches in the same way"
The hope from Goatcher going into the next year is that the programme continues to evolve and that there can be even more exposure to the Tigers environment.
This is still a very new process and there will be some trial and error, but the internal belief is that we are close to achieving that fine balance. The project is a sustainable one that means having a system that doesn't just recruit world class players but creates them.
No matter what defines their game, whether it be pace, power, kicking, whether they're representing England, South Africa or the Phillippines, whoever they are they will be united by the Tigers DNA.