Today marks the 50th anniversary of the first-ever appearance of a Leicester Tigers Youth Team and the beginning of a process which has contributed to the club's greatest successes.
Where the Class of 1972 led, successive generations have followed with names like Martin Johnson, Graham Rowntree, Harry Ellis, Tom Croft, Tom and Ben Youngs, Manu Tuilagi and Dan Cole coming through the ranks as Youth team or Tigers Academy graduates.
A new generation at Mattioli Woods Welford Road is now being led by Tommy Reffell, Freddie Steward, Joe Heyes, Jack van Poortvliet and James Whitcombe, and by the players who have made their senior debuts in recent weeks during the Premiership Rugby Cup campaign.
The initial idea for a Youth team came from the Leicestershire Schools Under-15 squad in the early 70s, with scrum-half Steve Kenney captain in that first game on this date 50 years ago.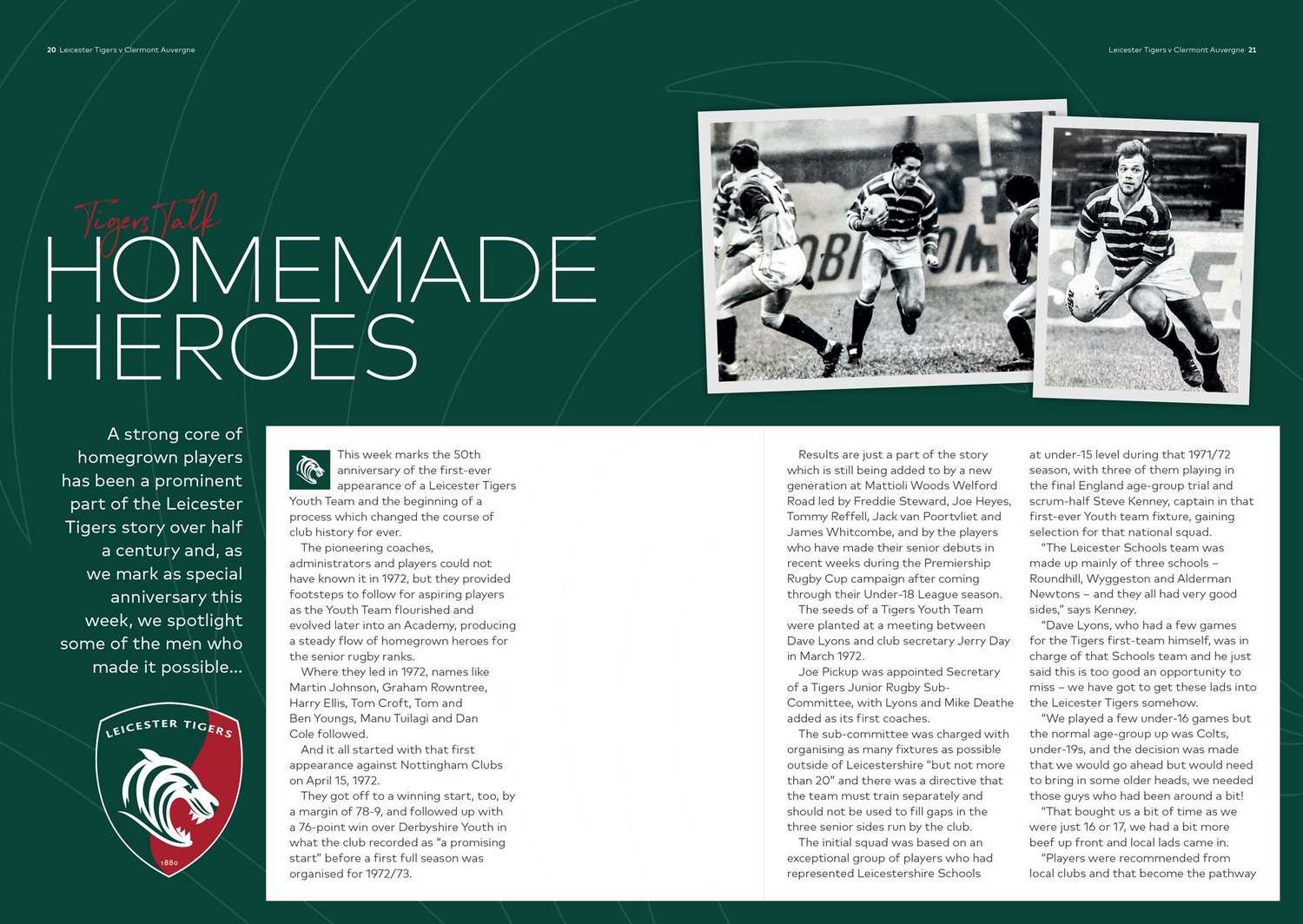 "Dave Lyons was in charge of that successful Schools team and he just said 'This is too good an opportunity to miss – we have got to get these lads into the Leicester Tigers somehow'," says Kenney who went on to make 365 first-team appearances.
"Dave was the driving force. He was very much along the Chalke White lines in terms of giving you all the tools but you had to take them out on to the pitch and use them.
"He wanted players who were very fit and very prepared, and to have different ways of paying. But the responsibility was put back on to players on the pitch work it out."
Jez Krych was the first of that Youth Team to make a senior debut, followed by Kenney, Angus Collington and Paul Dodge, who later became captain of club and country.
"We hadn't been used to losing games in the Schools or Youth teams, and obviously the young guys come in and you want to make a name for yourself," recalls Kenney.
"We all wanted a piece of it. It was a team that was there to win."
Ian 'Dosser' Smith, Wayne Richardson, Steve and Stuart Redfern, Ian Bates and Matt Poole, then Premiership title winners Louis Deacon, Matt Smith, Sam Vesty, Dan Hipkiss and Ollie Smith are just some of the players who have followed in their pioneering steps in a process which reaches a half-century not out this week.
This is an extract from the pages of the Tigers matchday programme for Saturday's game against Clermont Auvergne, available throughout the stadium, price £3.