Cast your mind back 40 years, to this day in 1979...
Leicester Tigers head coach Chalkie White has named his team for this weekend's trip to the south to face London Scottish on Saturday (February 3).
Nick Joyce will captain the side from the second row where he partners Arthur Hazlerigg behind a front row of Jez Krych, John White and Ray Needham.
The away game will be Needham's 22nd of the season to date, missing only the home win over Oxford University back in October so far in the 1978/79 campaign.
Steve Johnson is at blindside flanker and Garry Adey at No.8, joining Leicester-born Ian 'Dosser' Smith who has been named at openside flanker after continuing to impress during his second season with the club and big things are expected of the youngster, who many are suggesting will end up in both captaincy and coaching roles given his leadership qualities.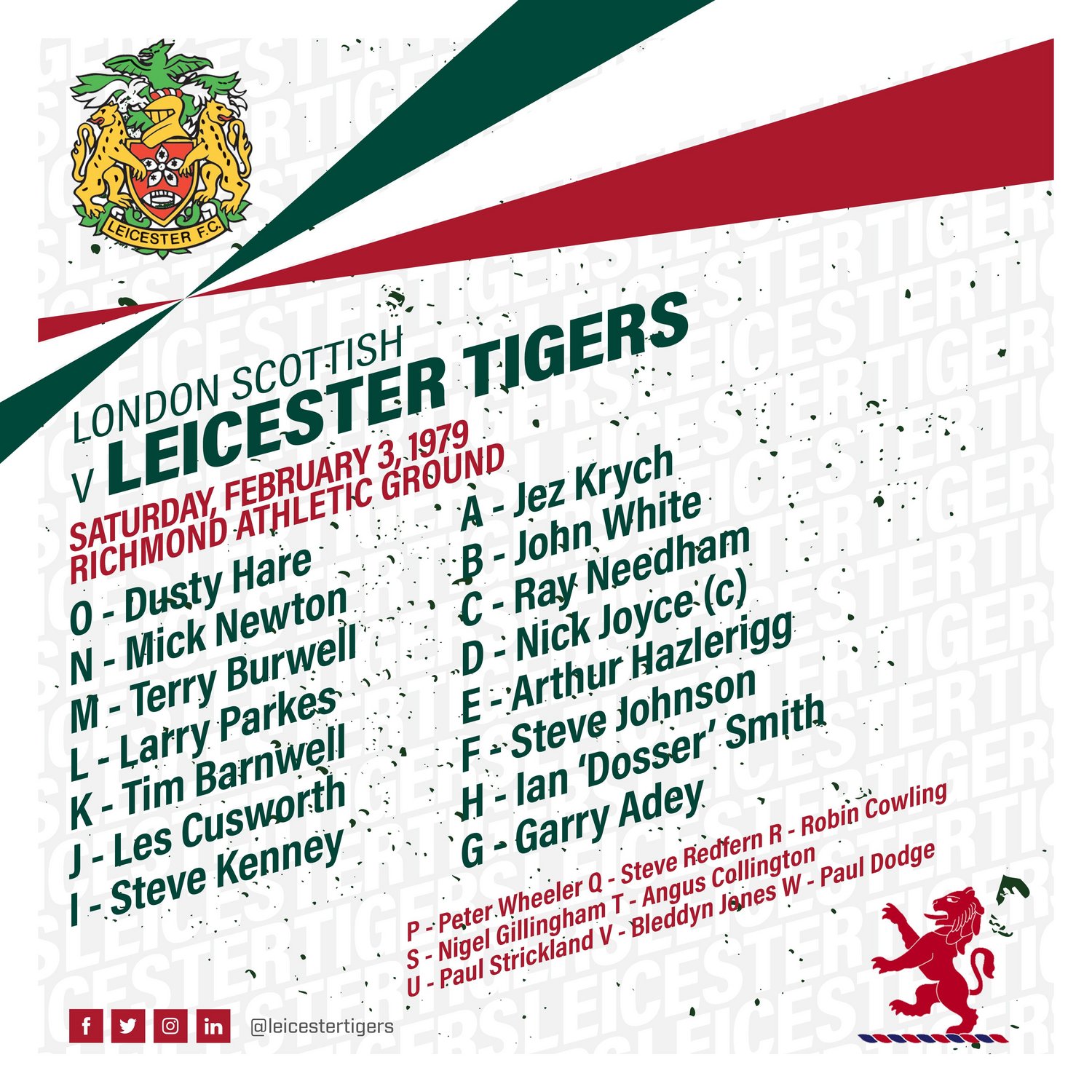 In the backline, Steve Kenney partners Les Cusworth at halfback inside Larry Parkes and Terry Burwell in the midfield.
Point-scoring machine Dusty Hare will line-up at fullback with Mick Newton and Tim Barnwell on the wings.
Ahead of next weekend's home clash with Newport, which weather experts are predicting may end up postponed due to the expected frosty conditions, Chalkie has named club captain Peter Wheeler and centre Paul Dodge on the bench despite the Tigers duo expected to be announced in England's side for their Five Nations clash with Scotland at Twickenham on Saturday afternoon.
Mr Reliable, Angus Collington, also takes his familiar place among the replacements alongside Paul Strickland.
Hare, speaking to Leicester Tigers Sport ahead of the game, said: "We've had a good season so far and last weekend's John Player Cup win over Northampton has lifted the spirits within the group even more."
"It's always nice to beat our friends from down the road ... we want to go down to Scottish and do the same, hopefully we can get a 30 point win.
"I'm predicting it will be about 33 or 34-0, the training week has been very good.
"After full time, we'll all head across to Twickenham to see the English lads take on Scotland as well ... so hopefully we can make it a double over them for the day!"
You can follow the action on the wireless and catch match highlights on BBC Rugby Special on Sunday afternoon.
Supporters can now get discounted tickets to our next two home games with our February Big Match Bundle available for back-to-back fixtures at Welford Road for the clashes with Newport and Fylde. Visit the Tigers Ticket Office now to get yours, before it's too late, with more than 500 expected for both fixtures.