Despite the pressure of gusting winds and the watchful gaze of Leicester Tigers' first John Player Cup-winning team, two more groups put in a valiant effort in the latest edition of the Ultimate Big Boot.
The competition, sponsored by De Montfort University (DMU), saw groups with Front Row Sports and James Goodchilds take to the Welford Road turf at half-time of Saturday's Gallagher Premiership clash with Bristol Bears and test their catching skills in front of more than 20,000 thousands of supporters.
Players from Tigers' 1978/79 cup-winning side – including world rugby's points record-holder Dusty Hare – were also on the pitch to celebrate 40 years since lifting the first major trophy in the club's history, and watched on as the two groups took on the ten-ball challenge.
Harry Richards made one of four catches for the Front Row Sports group, and was elated with his team's performance.
"You know what, it was absolutely thrilling," he said. "There is a bit of pressure in front of the crowd, but we did it for the experience and to have a laugh.
"We got four catches, and that was much better than we expected – if you see how high they went in the wind, we were pretty happy with that."
And as for advice for the final two teams who will face the challenge at the final home game of the season?
"Keep your eye on the ball," Harry added. "Call your name; at the end of the day it's all a bit of fun."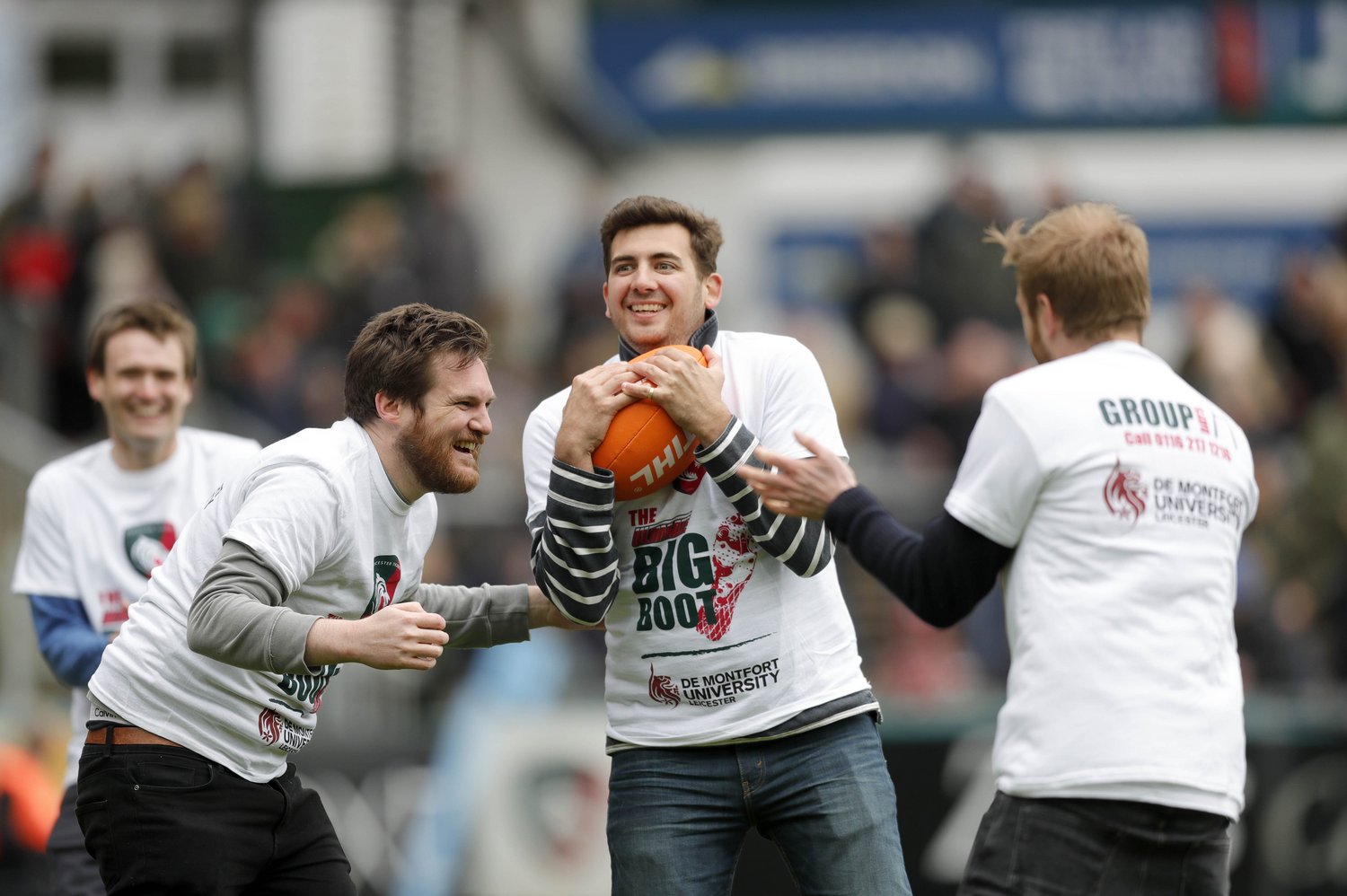 The James Goodchilds group made two catches from their ten attempts, with one taken by Luke Larrivain, who said: "I thought our attempt was pretty good, and it's been a lovely experience.
"There's quite a lot of pressure in front of all these people, but we enjoyed it and had a lot of fun. It was great to come down onto the pitch."
The season's best score so far is seven, set by staff from the Tigers Group Sales team during the Heineken Champions Cup fixture against the Scarlets in October.
The Ultimate Big Boot is available for group bookings and all competitors receive a Big Boot T-shirt as a souvenir. All participants must be aged 14 or over. For more information, call 0116 2171 216 and learn more about our Group Days.