This Sunday, the Leicester Tigers Women's team take to the field for their final league game at Mattioli Woods Welford Road for this season.
It will be an important day for several reasons; it will be the final time the team play a competitive fixture at the stadium before their admittance to the Premier 15s, they will be looking to maintain their unbeaten record and, especially for coach Steve Hanna, they look to take another step toward a defensive record of fewer than 100 points conceded in the campaign.
However, for Ali Gale, Ellie Turner and Ofure Ugiagbe, the day will hold significance for entirely different reasons.
This Sunday is Mother's Day and all three have daughters of their own.
Gale is mother to twins Beatrice and Imogen (9 years old), Turner is step-mother to Ruby (13 ) and Ugiagbe is mum to Adaze (2).
We sat down with them ahead of this weekend's game against Bishop Auckland for their thoughts on motherhood and rugby...
First off, will you look to introduce your daughter(s) to rugby?
Ali Gale: I'm excited to get them into something they're passionate about, as I was lucky enough to find my passion in rugby. They (Beatrice and Imogen) have tried rugby, they played a little at Under 6 and Under 7s but there were no other girls there so I think they found that quite challenging. When you've got young kids it is a case of finding what they really enjoy doing and what makes them happy.
Ellie Turner: I'm not sure she's interested in playing, she's 13 so she has a lot more of an idea about her interests and how she wants to spend her time. But, she loves to watch and she actually came on the bus with us once and absolutely loved the journey!
Ofure Ugiagbe: (when told Ali had said she'd like her girls to find their passion, whatever that may be) Nah, I want Adaze to play rugby! *laughing*
Myself and her Dad both play rugby, it's how we met, Adaze comes to all our games and I love the sport so much so of course I would love for her to want to play rugby but it has to be her decision. She is very headstrong and at the moment she's been running round with a football, which has been killing me *laughs*. She is her own person and, naturally, she'll find herself. She's around rugby a lot at the moment so would love for her to play but I will forgive her if she chooses not to.
What values does rugby teach that are important for young kids growing up?
Ali Gale: I think that rugby teaches discipline, anger management *laughs*. You learn that when a decision doesn't go your way you have to accept it. Teamwork, of course, is a big one and then that recognition of authority, that you must accept the decision given by the referee. I wish that I would get that level of respect at home!
Ellie Turner: It's such an inclusive sport, especially for young girls growing up and the pressures they are under, that body positivity aspect is amazing, no matter what size or shape you are there is always a role you can fill on a rugby field.
Ofure Ugiagbe: The RFU values immediately spring to mind, the TREDS framework: Teamwork, Respect, Enjoyment, Discipline and Sportsmanship. Most importantly of those, for me, is enjoyment. But then knowing that everyone enjoys different things so then it's about having that respect for those around you and knowing that this game is for everybody. Whether that's respect for your fellow players, coaches, the supporters or the referee. I hope they would then take those values into the rest of their lives, when at school and they see someone who's hesitant to get involved, they can be that encouraging friend. I think all those values are totally transferrable.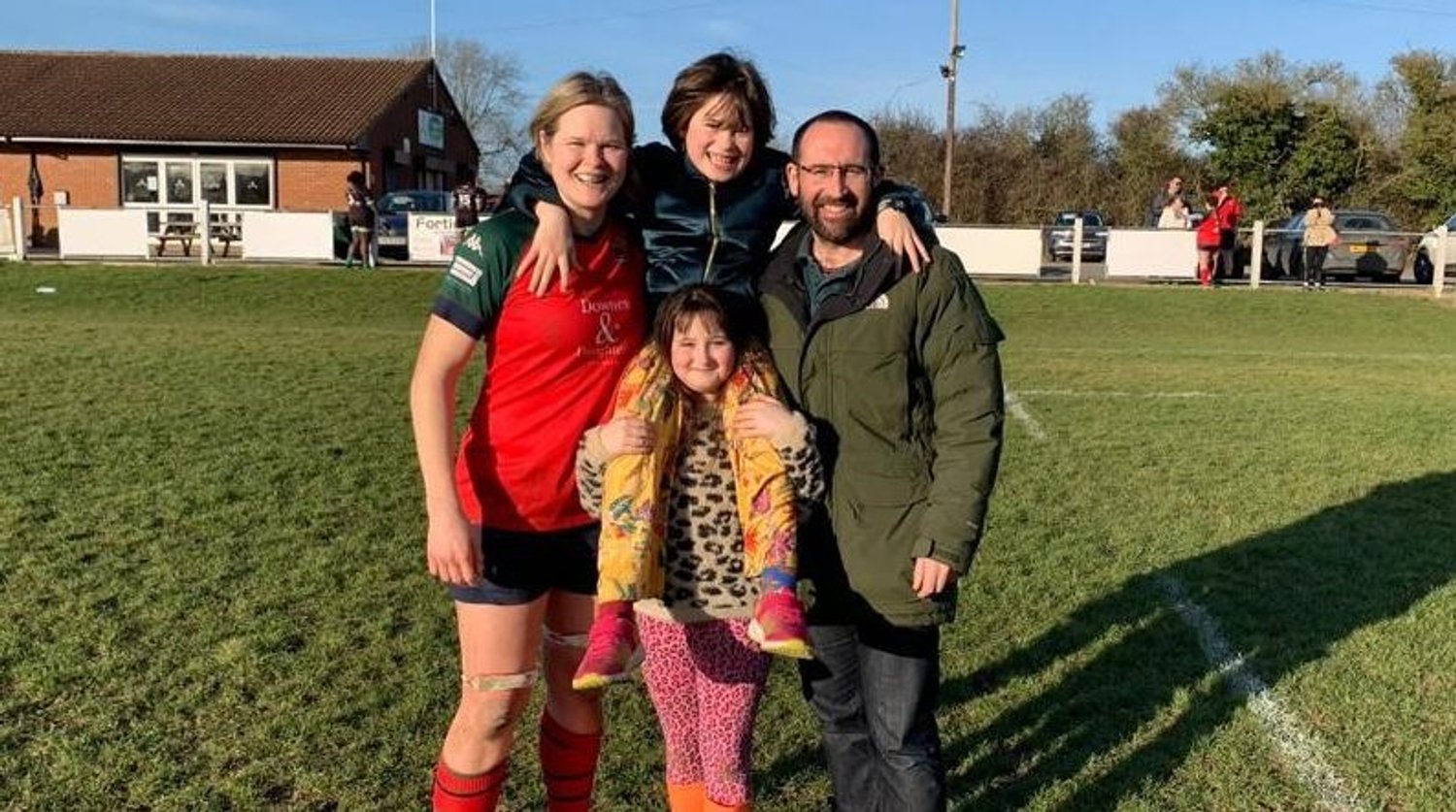 What are some of the challenges you face balancing motherhood and rugby?
Ali Gale: Where do we start?? *laughing* Actually, the rugby family has been brilliant. On gameday I've brought the kids down since they were tiny and I have been that Mum who has breastfed at half-time. I remember playing touch rugby over at Nottingham and I would run off the field, get the boob out, breastfeed and then run back on! The rugby family will always look after you, whoever it is, whether that is one of the substitutes, looking after the girls and keeping them entertained; I used to car share with Rachel Malcolm, one of my teammates from Lichfield and she would be sat between the two massive car seats in the back, entertaining on our long car journeys home from wherever we'd been playing that day.
The main struggles are around training really, fitting that in around everything else as it's late in the evenings. The initial challenges I have found were around, making sure the girls would be settled for the three hours I'm away. It's tough to juggle everything, absolutely, but the support I've had has been excellent. Plus, Dad has been pretty good too.
Ellie Turner: It often feels like I'm away for a lot of the weekend, away games sometimes feel like you will miss a whole day. Similarly, training in the evenings, there is that time commitment that means I'm not able to cook dinner or even be there to eat with everyone.
Ofure Ugiagbe: It's strange, there's almost this level of guilt? Motherhood is this amazing journey and you want to see your child grow and I want to be around her all the time. But then, at the same time, I need to come and play rugby to be the best version of myself, for her.
There's always a part of me that says the commitment, the time, the energy that it takes, is it worth it? But then it's all about finding the balance and I like to think of those commitments as filling up your wellness and rugby makes me really happy and makes me a better person so that allows me to be a better Mum.
Have your children watched you play? How does it feel seeing them cheer you on?
Ali Gale: It is really lovely to have them watch me play, they're always really excited at the end of a match, running onto the pitch and I love getting a big cuddle.
Ellie Turner: So when she came away with us on the 'fun bus' (away to Bishop Auckland, earlier in the season) she turned round when we just arriving back and said 'I've had the best day ever!'. That was one of our first games of the season and she's been down a lot since, it's really got her into watching rugby: she asked for a Tigers shirt for Christmas to wear when she comes down! So she really enjoys watching and then also loves telling people that I play rugby so it's amazing to see that she's so proud.
Ofure Ugiagbe: Absolutely amazing, she is a little hooligan. She has come to all of our home games and most of the away games and you'll always see her running on after the match has finished. She has a little Tigers kit and always brings her flag and loves to shout 'TIIIGERS' along with the fans. The minute I finish a game, the first thing I always look for in the crowd is her. It's the best feeling in the world spotting her.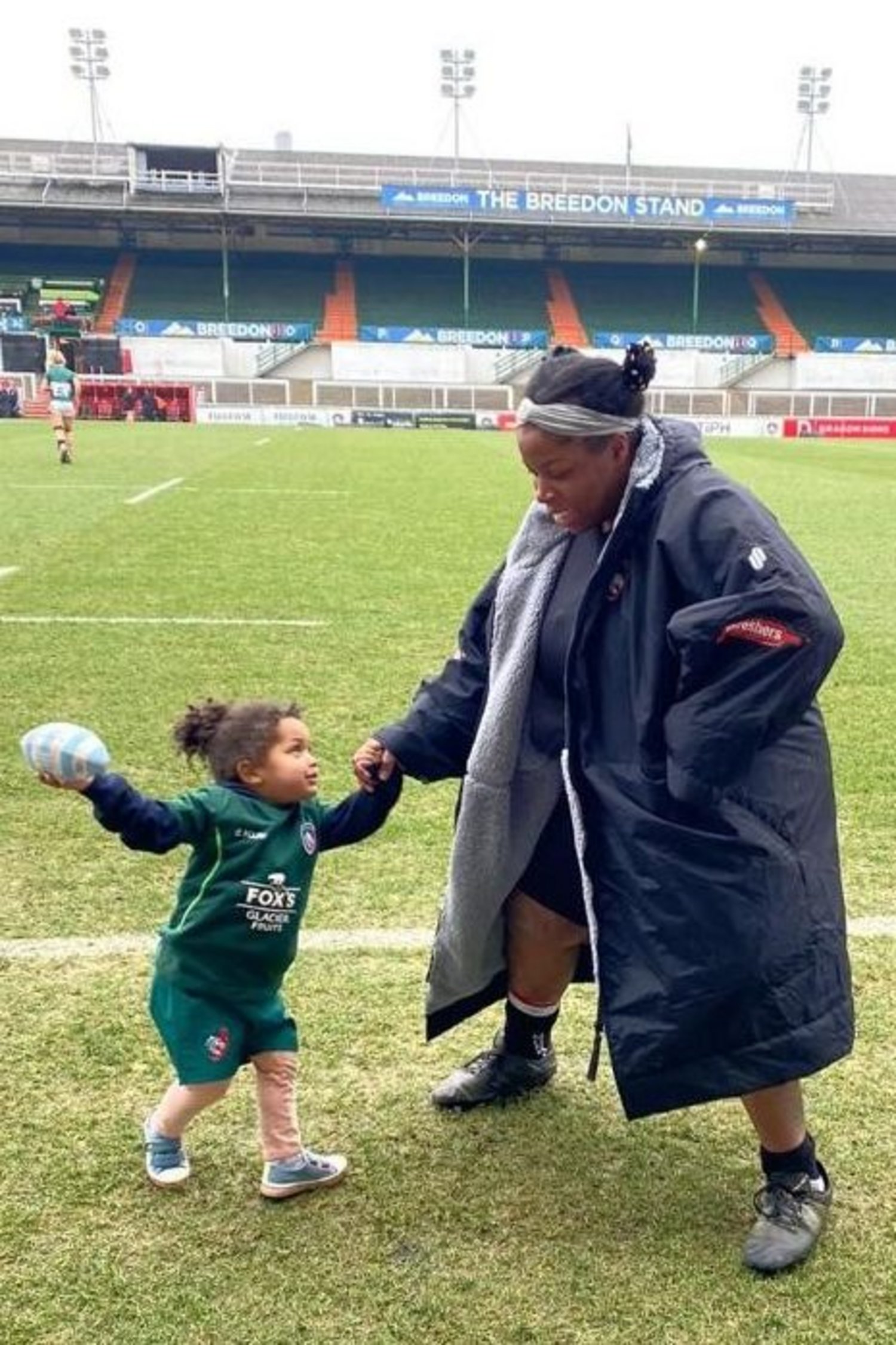 Are there any skills you've acquired as a Mother that help you out in a rugby context (both on and off the field)?
Ali Gale: I think single-mindedness and motivation would be the main ones. I always think, I've given birth to twins, I can do anything! It's impossible to realise how hard giving birth is until you've been involved in that experience and so it helps you to realise that all discomfort is temporary and whatever is happening around you, you have that single-mindedness that you will find a way to keep going.
Ellie Turner: I think one of the main skills would be composure and positivity in any situation. When you're dealing with a child, no matter what is happening, you have to stay calm and be the adult voice in the room. You are able to assess what is going on, say 'right, this is the plan' and keep that positivity that everything will be alright. So then on a rugby pitch, I've learned to slow down, take a breath and keep a level-head in the heat of the moment.
Ofure Ugiagbe: Patience would probably be the biggest one! To be patient in accepting of others, that people learn things in different ways and people pick up skills at different rates.
Also, sometimes I look at Adaze and she is so headstrong, forceful, she takes up all the space in a room and I love all those qualities and never want her to shrink; then I look at those qualities in myself and I think that, in teams I've played for in the past, I have tried to hide those aspects of myself. So being her Mum has given me the confidence to be absolutely more of myself.
Finally, vice-versa, are there any skills you've acquired as a rugby player that help you out in a parenting context?
Ali Gale: The strength definitely helps, I used to have to breastfeed them both at the same time. It's actually called the rugby ball hold, that's the official medical term for the position! Of course, having that extra stamina is also always welcome.
Ellie Turner: Resilience, I suppose. I've played in teams that have struggled and you're taught to keep going no matter what challenges are being thrown at you and that is so important with a child also, if you're coming home after a long day, you have that resilience to be able to help with schoolwork or any of the challenges that may come up.
Ofure Ugiagbe: I think rugby has taught me how to have difficult conversations, how to negotiate with people and that absolutely helps when you're battling with a two-year-old who does not want to listen to anything I have to say!
Get your tickets for Sunday's fixture at Mattioli Woods Welford Road (kick-off at 3pm) against Bishop Auckland - via the link below.
Men's Season Ticket Holders can watch the Women's team for free. Simply show your Season Ticket upon arrival and you will be granted admission to Mattioli Woods Welford Road.