Leicester Tigers host French visitors Bordeaux-Begles in the pool stages of the Heineken Champions Cup on Saturday. Kick-off is at 3.15pm and, with some Covid protocols still in place, all supporters are urged to arrive in good time to gain entry.
Our Matchday Guide below contains everything you need to know about your day at the stadium.
Have your season ticket card, match ticket, print-at-home ticket or your smartphone ready before you reach the turnstile to allow easiest possible access to the stadium.
Wellbeing and Safety
Although the Government has announced changes to Covid regulations from next Thursday, protocols remain in place at sporting events this weekend. Click here for full details and look out for your online declaration link in your email in-box on Friday evening.
Supporters are required to wear a face-covering in indoor areas and congested areas around other people, and follow directions of signage and stewards regarding entry and exit.
Take extra care over hygiene and sanitisation, and if a ball is kicked to you in the warm-up or in the game, please do not return it direct to the players or to the pitch. Instead, return to the ball boy team or a steward so it can be sanitised.
The club encourages supporters not to bring bags into the stadium in order to help minimise delays and contact due to searches at the turnstiles.
Stadium turnstiles are open from 1.30m in the North Stand and 1.45pm in other areas.
Match tickets
Tickets are still available for Saturday. Book by phone on 0116 319 8888 (option 2) or online. There are also units around the outside of the stadium to purchase tickets in person on matchday.
Travel and Parking
Beat the queues for shopping car parks by using the Tigers matchday bus services on routes from Loughborough, Market Bosworth, Market Harborough and Oakham.
Places must be booked before matchday. Click here for details.
Parking spaces at Freeman's Common are pre-book in advance only.
There is no matchday availability at the King Power Stadium.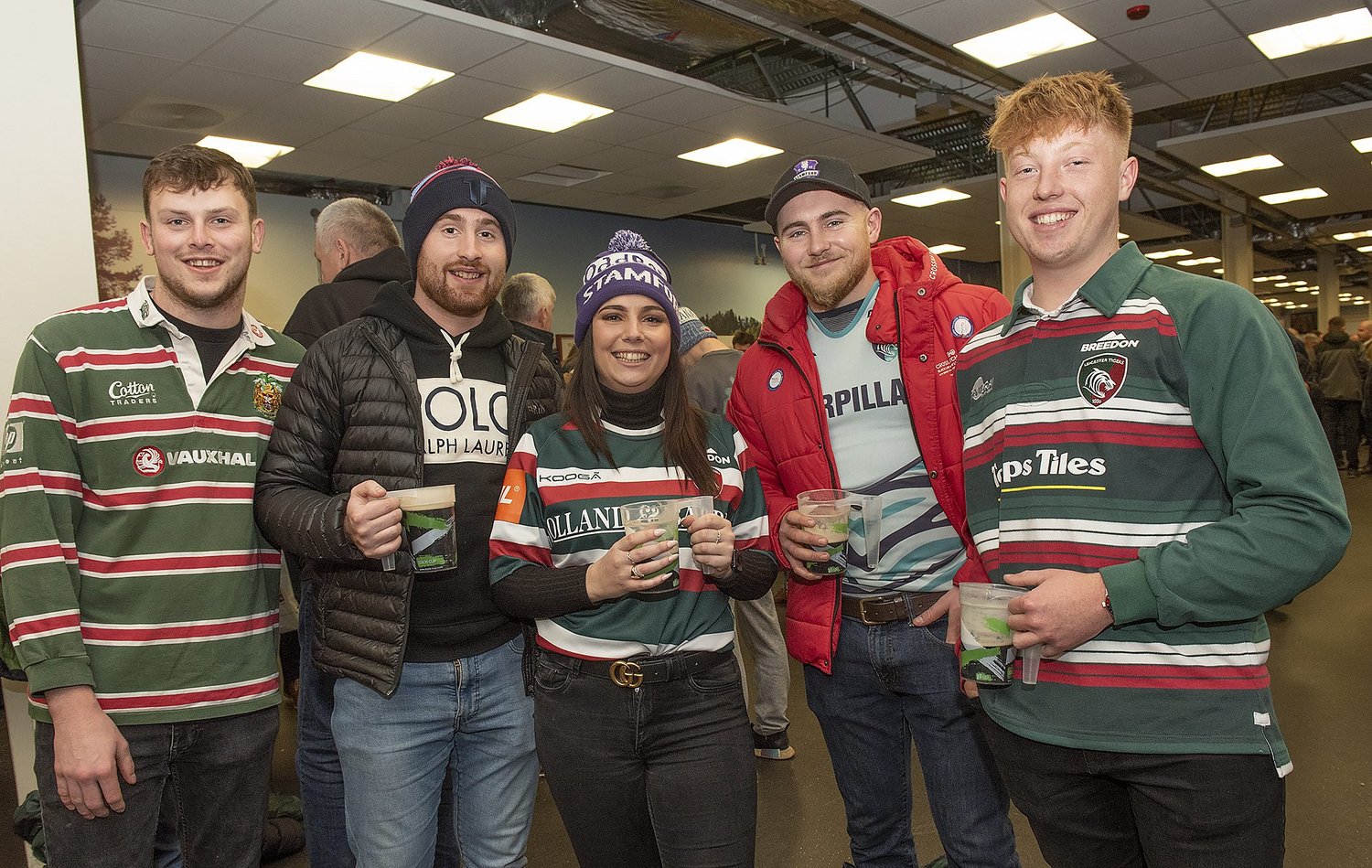 Making payments
The stadium runs cashless payments only, including shops, bars, kiosks and programme booths.
Bars and kiosks
Final Whistle is open for any early arrivals, while all other kiosks and bars open from 1.45pm.
Returnable cups are used at all bars. Supporters can claim their £1 deposit back when cups are returned. Only 10 cups can be refunded by one person and persons over the age of 18 may redeem the cup. Proof of ID may be required.
Pre-match
The main Club Shop in the Beehive Money Stand is open from 9.00am on Saturday.
The second shop in the North Stand is also open on matchday and there are shop booths throughout the stadium for matchday essentials including the 100-page matchday programme.
Season ticket holders receive a discount on shop purchases. Supporters can use any Credit on their Tigers account to spend on shop purchases.
This week's 100-page matchday programme includes an interview with Tigers centre Matt Scott, a full guide to visitors Bordeaux-Bègles and the Heineken Champions Cup, and all the facts and stats behind the team. Pick up a copy from shops or shop booths, price £3.
One group of supporters will watch from The Best Seats in the House courtesy of club partners Mattioli Woods, and there is a chance to win a free pint in the Topps Tiles Golden Tile promotion.
Young fans can also look out for the new Fox's Supporters' Bingo activity to play during the afternoon.
Please follow signage and instructions from stewards in the area closest to players of both teams in the Breedon Stand and do not gather close to the players and officials in the tunnel area before or after the game.
Guard of Honour groups and Flag Wavers from local rugby clubs will play their part in the build-up to kick-off on the pitch.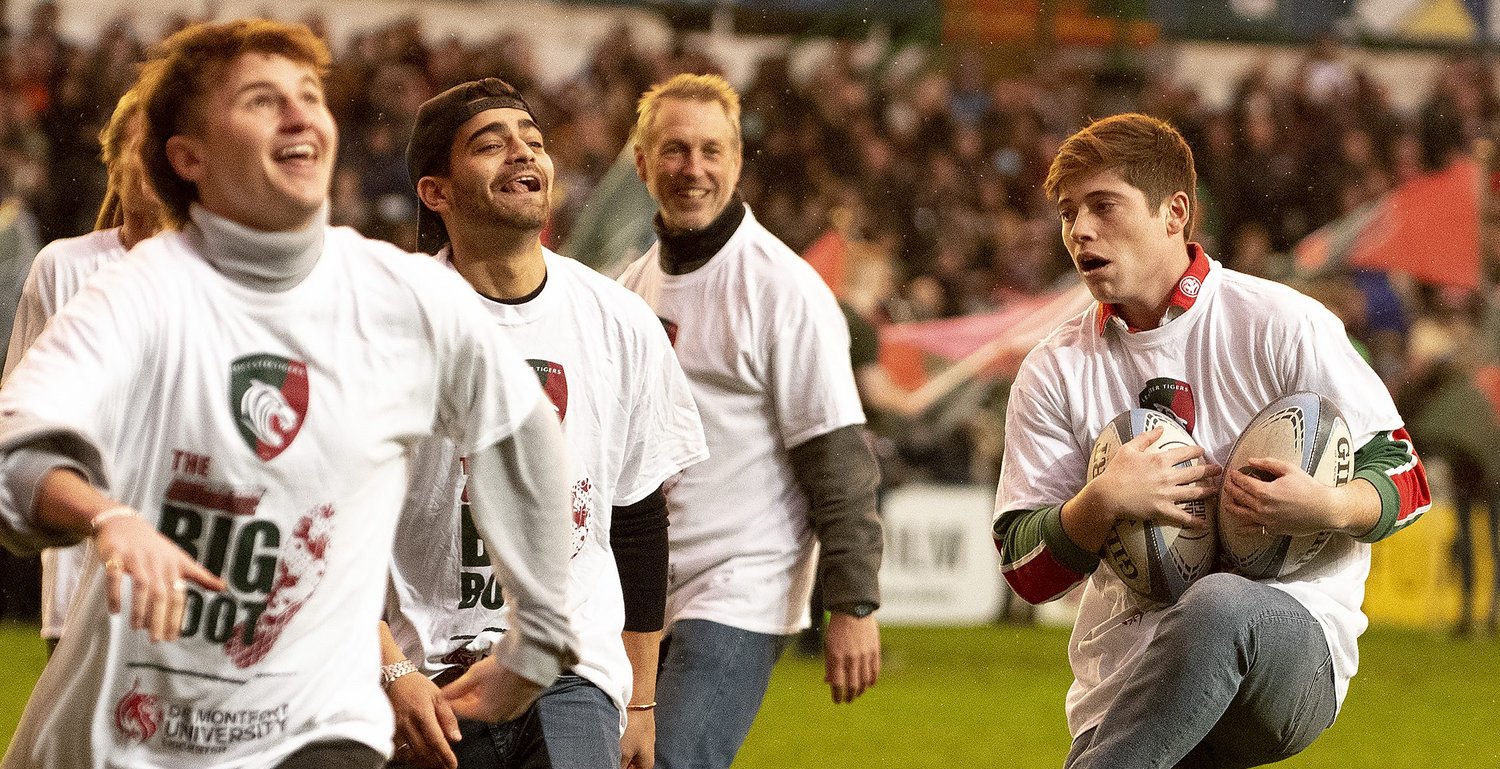 Half-Time
The Big Boot, sponsored by De Montfort University, allows groups of supporters to test their skills and their nerve on the pitch at half-time. Give them plenty of encouragement from the stands!
Post-match
Supporters must keep off the pitch.
Your support is appreciated and the players will acknowledge the crowd from the pitch at full-time. They are unable, though, join supporters on the touchlines.
Please do not wait and gather at the front of the stands as we aim to reduce congestion and close contact in those areas.
The Final Whistle and Droglites bars will remain open at the end of the game.
Resident band Rock Bottom will return very soon to provide post-match live music in line with changes to Covid protocols.
If you are unable to attend
Saturday's game is being covered live by BT Sport, or you can follow updates using with the Matchday Live service on the club app and website, or via the club's social media.
Team announcements from both sides are at noon on Friday and there will be build-up to the game on the club website, app and social media, plus match preview on Saturday morning and full reaction after the game including LTTV interviews.