The NHS is at the centre of the Coronavirus crisis, working day and night to care for those affected, and the #TigersFamily is proud to show its support for their work.
As well as encouraging participation in the #ClapForTheNHS campaign each Thursday, Leicester Tigers have made several other gestures of support for the NHS, including:
Donation of kit including disposable gloves and oxygen from the Tigers medical team
Donation of bottled water and energy drinks for hospital staff
Free parking for NHS staff in the club car park at Welford Road
Staff members volunteering to assist their local NHS Trust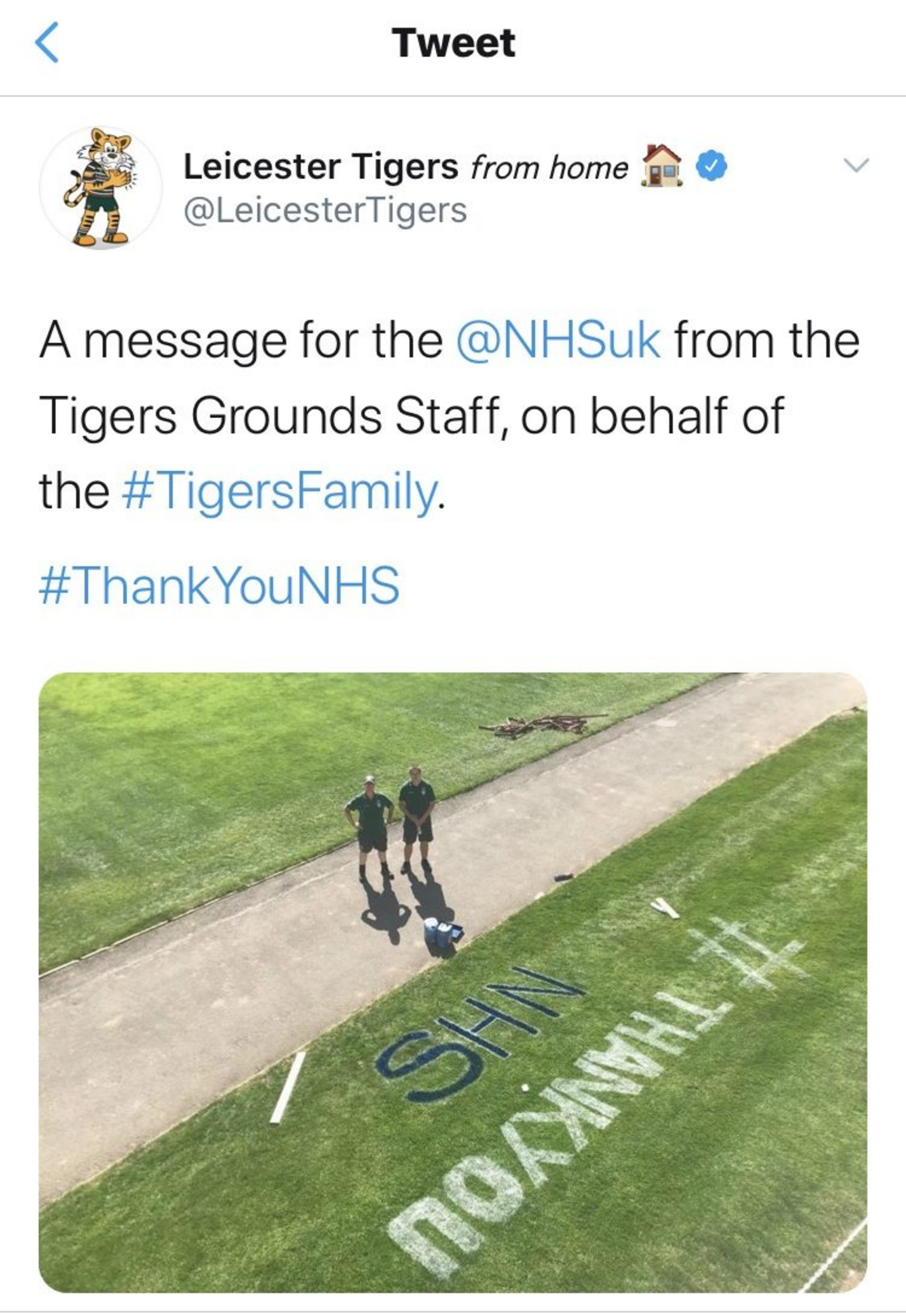 Tigers chairman Peter Tom CBE said: "Every one of us has friends, family or neighbours involved in frontline roles within the NHS and its other work in the community. They are all showing immense bravery and commitment at this time and we thank them all for their hard work.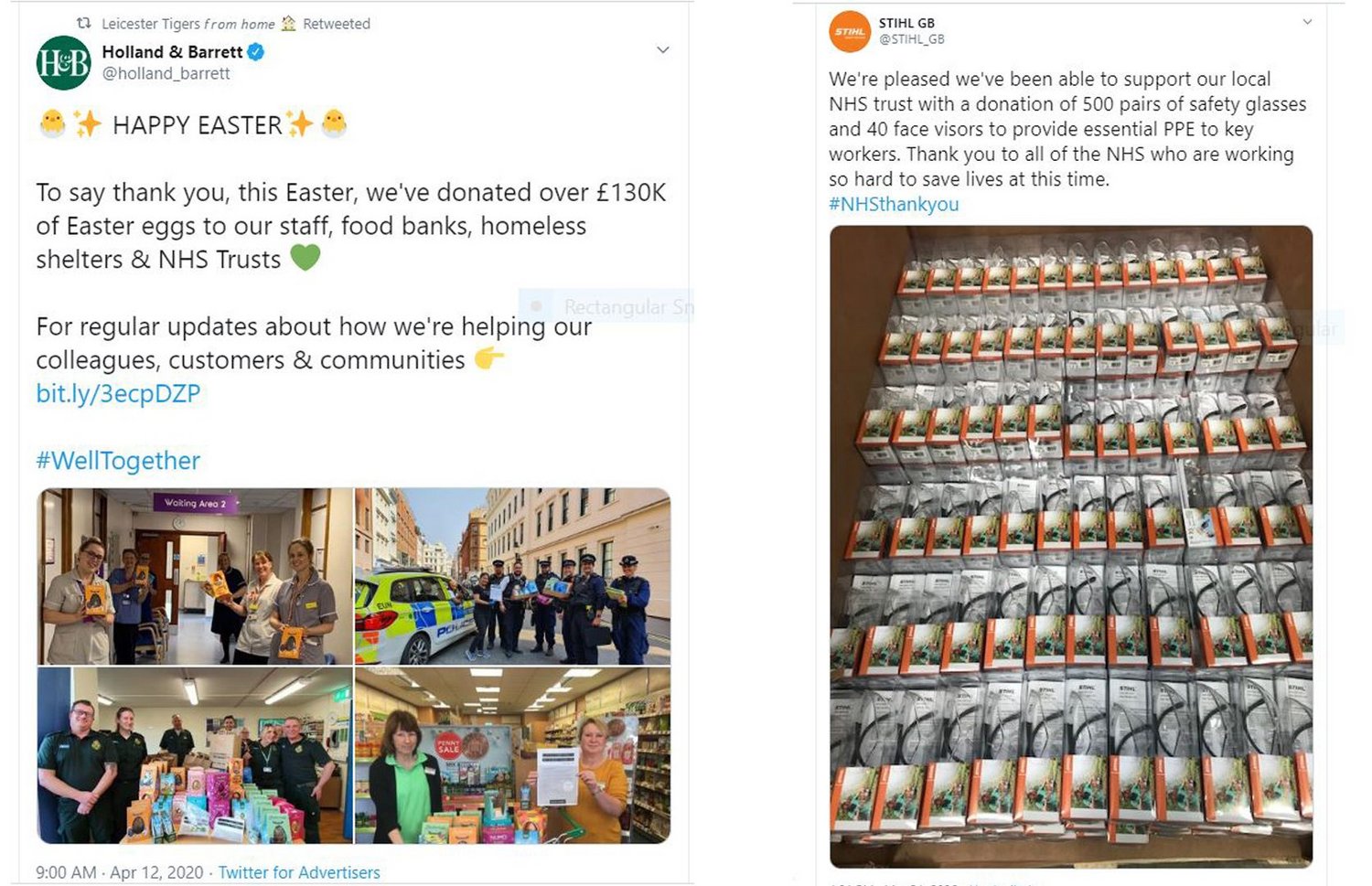 "Tigers have been close neighbours of the Leicester Royal Infirmary for very many years and we send our gratitude to everyone working or volunteering there, and in all of our local hospitals.
"As well as providing the best possible care for patients in these difficult times, we hope they and their families all stay safe and well."
Club partners have been showing their support too, including:
Holland & Barrett
As a way of giving back to colleagues, customers and communities at such a difficult time, the Tigers' main partners have established an initiative to roll-out special product bundles worth £600,000 to hospital trusts. These packages include hand washes, creams, moisturisers, sanitisers, healthy snacks and vitamins to help provide support to NHS staff and volunteers caring for COVID-19 patients. They also donated more than £130,000-worth of Easter eggs to staff, food banks, homeless shelters and NHS Trusts. #WellTogether
The team have a number of initiatives providing direct support to the frontline. The Mattioli Foundation has donated £3,000 to buy protective clothing for Leicester's Children's Hospital – ordering and delivering the items within 48 hours of the request when NHS approved suppliers were out of stock. This was closely followed by a second donation of hand gel and scrubs for the Evington Centre, part of Leicester General Hospital. Mattioli Woods have been donating, but also sourcing and delivering materials to where they are needed.
Donating £100,000 to communities during the Coronavirus crisis, including tackling food poverty. #LookingAfterEachOther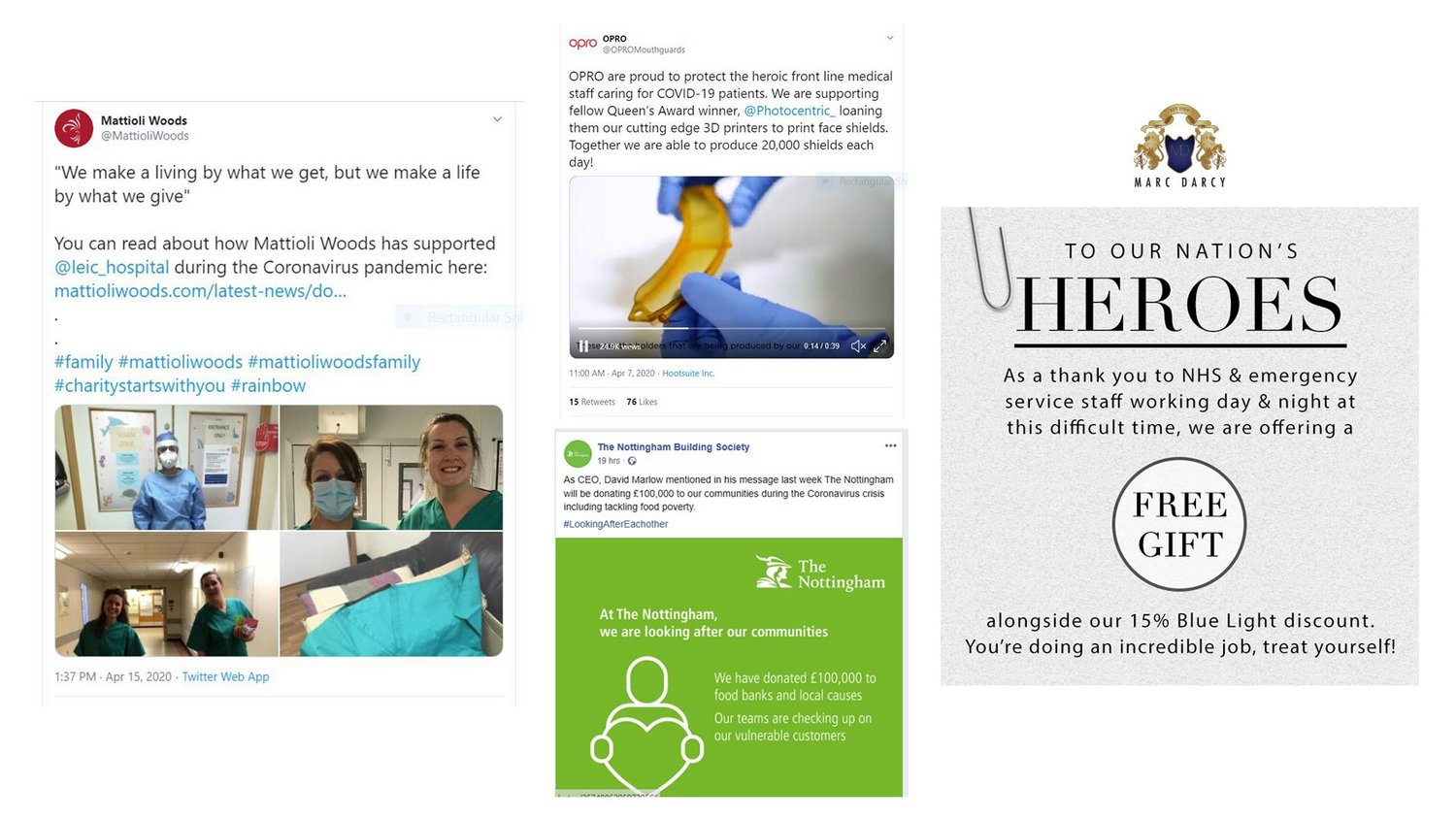 Donated 500 pairs of safety glasses and 40 face visors to provide essential PPE to key workers. #NHSthankyou
Have 1,500 student nurses on placements in hospitals around the region, while the university also speeded up the registration process for final year medical students, meaning an extra 200 newly-qualified nurses could be fast-tracked to support the fight against COVID-19. DMU's registered healthcare staff are also taking up roles in the NHS. A Chinese partner university donated 1,000 face masks to staff at Leicester Royal Infirmary and one of the university's post-doctoral researchers has joined an international group of scientists working to find a cure for COVID-19. A second-year Mental Health Nursing student is working on a dedicated isolation ward at Glenfield Hospital caring for mental health in-patients who have contracted COVID-19.
The Everard Family Foundation is donating £50,000 to Age UK Leicestershire & Rutland to help its continued support to older people in local communities.
Häfele
Proud to supply hardware including connecting fittings, handles, hinges, locking systems and plinth feet to hygienic furniture specialists Workspace (Scotland) LLP for their work in supporting the frontline. Workspace have been working hard to fulfil the developing needs of the NHS, installing hand sanitation stations and work stations at sites across the country.
Focusing on providing food to the Company Shop Group who provide an effective and sustainable solution for re-distributing unavoidable surplus products through their Community Shops and Fareshare, the UK's national network of charitable food redistributors. Have also donated products to Great Ormond Street Hospital.
Joules
Donating 50,000 face masks to NHS hospitals and donating profits from the Rainbow Edit range to NHS Charities Together COVID-19 Urgent Appeal.
Clarity
Working with NHS trusts, with fees completely waived, to support NHS and Government frontline workers in organising travel, accommodation, events and information. Also helping to counter the spread of misinformation by opening travel alerts, detailing latest travel and risk information, to all NHS and Government workers.
Marc Darcy
As a thank-you to NHS and emergency staff, they are offering a free gift alongside 15% Blue Light discount. "You're doing an incredible job, treat yourself."
OPRO
Supporting fellow Queen's Award winner Photocentric by loaning cutting-edge 3D printers to print face shields. Together, they are able to produce 20,000 shields per day.
Thank you to everyone who is playing a part in supporting staff who are dedicated to helping others throughout this period.
The Leicestershire Partnership NHS Trust is urgently looking for people to fill a number of roles based both in the field and at their hubs in the county. Click here for more details.