This week, we've been looking at some of Tigers newest faces as we build up to the start of a new season here at Welford Road.
The best way to watch all Tigers new signings in action is with a Leicester Tigers season ticket, starting from just £240 for adults and £80 for under-18s
You can read each of our player profiles on Jaco Taute, Hanro Liebenberg, Calum Green and Noel Reid.
Step forward our final profile feature of the current series, EW Viljoen.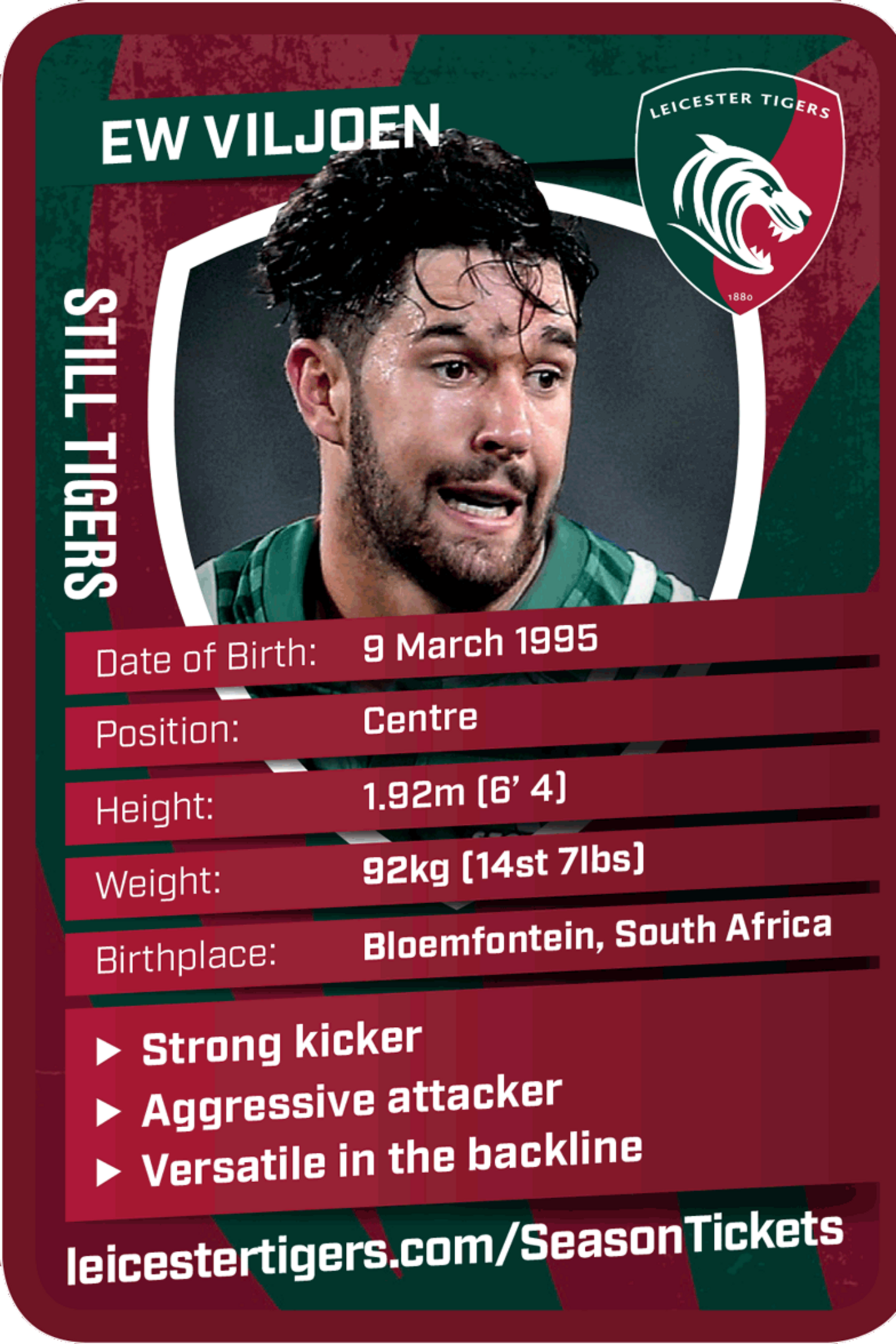 One of three South Africans recruited to Geordan Murphy's squad for the 2019/20 season, EW adds depth on the wing, centre and at fullback for Tigers.
Taller than most in his position, the 24 year-old enjoys finding the space to run into and can quickly go through the gears.
Having enjoyed an impressive Junior World Championships at U20 level, the wideman already has well over 50 Super Rugby caps playing with and against his fellow countrymen Taute and Liebenberg.
It is running into 'that space' where Viljoen is most comfortable, terrorising opposition defenders with his aggressive attacking style, skills and speed to burn.
EW is a versatile, skilful and exciting player to have as part of our group. He has an impressive résumé for a young man and adds a lot to our outside-back stocks and provides valuable depth in the squad."

Geordan Murphy
His versatility across the backline also presents Murphy much-need flexibility in a season where depth in key positions is imperative to overcome the testing campaign intertwined with the 2019 Rugby World Cup.
Tigers were always known to be a physical team and teams didn't want to come here to Welford Road because they get back on the bus hurting and bruised. We want to bring that back this year"
Read more from Bloemfontein-born outside-back in his first interview with the club as he chats about his new teammates and the famous '16th man' at Welford Road.
Watch every game from just £40 a month using the club's six-month interest free direct debit.
Keep an eye out over the next few weeks as we take a look at what else Tigers season ticket holder has to offer, from saving supporters money to a bundle of benefits to enjoy.