While many have been wrapping up and keeping warm this festive month, youngsters from six primary schools braved the cold winter and took part in the latest Nottingham Building Society Tag Rugby festival.
Held at Loughborough RFC in north Leicestershire, the festival celebrated the final week of six tag rugby sessions delivered by Leicester Tigers community coaches to year three and four pupils across the region during PE sessions.
During the sessions, coaches work with the pupils to introduce them to the game, develop their knowledge of the game in a fun and active environment, encouraging the children to lead healthy lifestyles by incorporating positive values that come straight from the club.
More than 100 pupils and teachers from Ashby Willesley, The Merton, Highcliffe, Seagrave, Griffydam and Rendell Primary Schools were also joined by club mascot Welford who posed for photos with the groups.
A wet and windy afternoon wasn't enough to wipe the smiles off the many faces as each school took part in the round-robin tournament – which for many were their first ever competitive tag rugby matches.
Supported by The Nottingham, teachers and parents were on hand to cheer on the teams and there was also a special Magic Moment prize awarded to nine-year-old Isabel Cherry from Ashby Willesley Primary School.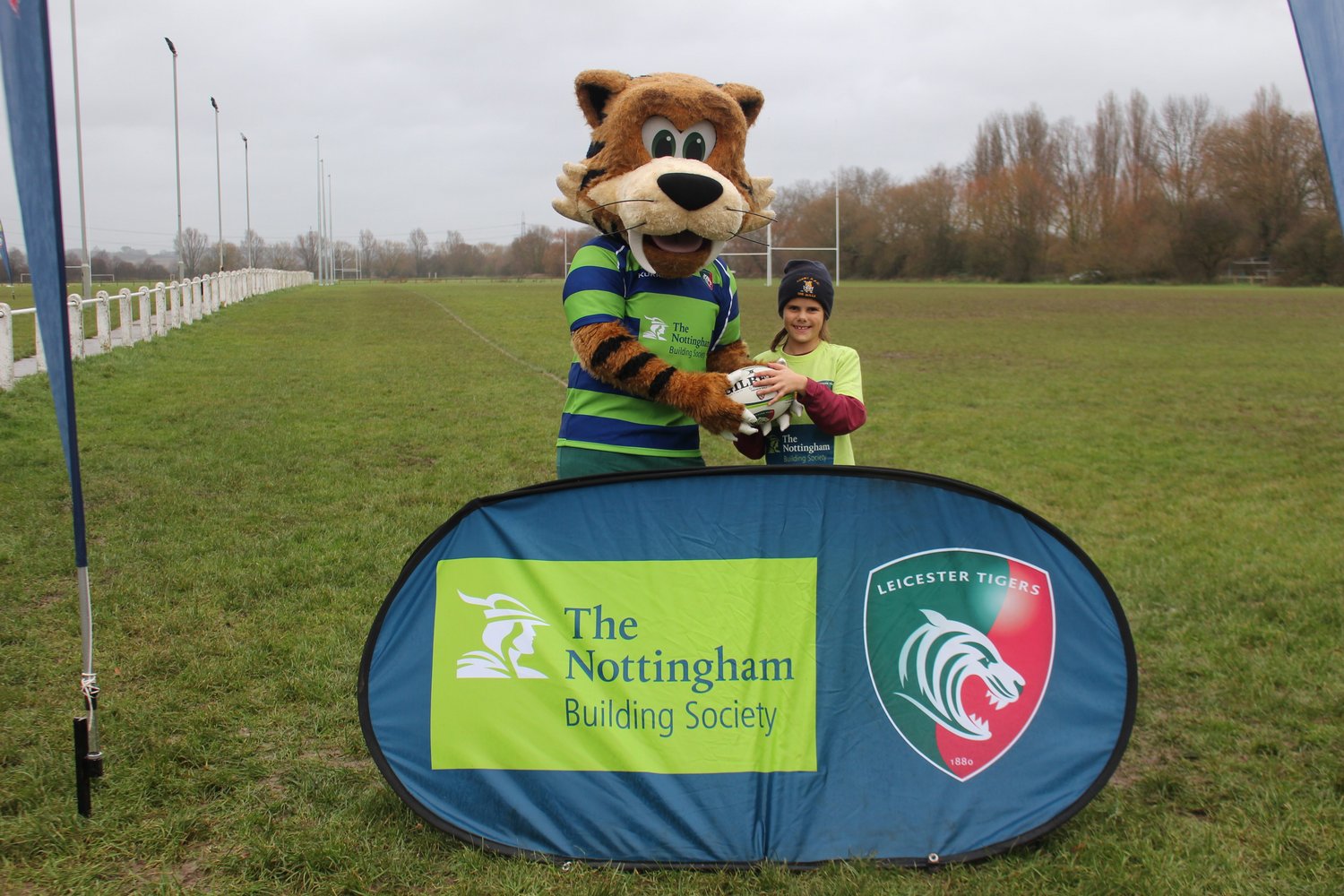 Isabel said: "I've really enjoyed taking part in the rugby sessions and I play for my local club Ashby RFC, so I have been trying to help my teammates out too.
"Rugby is very fun to play as you get to run about and dive in the mud. It has been really good to play against lots of different schools too.
Steve Hanna, community rugby manager at Leicester Tigers, added: "The programme is now in its fifth year and so far has involved over 150 schools, 15 local rugby clubs and over 7,500 year 3 and 4 pupils in various schools children, thanks to the outstanding support from the Nottingham Building Society.
"Our links to the local rugby clubs are an important aspect of the programme as both Leicester Tigers and Nottingham Building Society want the young players to take their new found knowledge and enthusiasm for the game and continue playing in their local communities."
Kicking off after the New Year on January 6, the programme will be covering schools across the Rothley, Groby and Western Park area, with the festival planned for this cluster on Thursday February 13 at Leicester Forest Rugby Club.
For more information about the Nottingham Building Society Tag Rugby Programme either click the link here, or contact Steve Hanna at [email protected] or call 07590 890 853.